"There is a brewery down the street, we can wait there" I said to my wife. The pandemic had thrown a wrench at my habitual planning. Some friends had planned a trip to Eau Claire, Wisconsin to check out a few local breweries. We were meeting them at their second stop, but we discovered children were no longer allowed in their taproom. "Can we walk, or do we have to drive?" she replied. Our son Arlo was starting to fuss, annoyed at the lack of motion. "We can walk, I'll get the stroller" I said. Onward to Lazy Monk Brewing.

It's rare to find breweries that focus on European style beer. You're off trend if you don't sling hazy this or smoothie that. But there are places that throw novelty to the wind, buckling down on proven styles. The moment I walked into Lazy Monk, I knew they were the latter. Their dark wood panels, coffered ceilings, and warm lighting evoke memories of beer halls nestled in the heart of Bavaria. The tap list solidified their position in the craft beer spectrum: Pilsner, Czech Dark, Lager.
"Do you want to sit inside, or outside?" I asked. It was early November. In a normal year, outdoor dining would be out of the picture, especially with an infant. Yet here we were, 70 degrees and sunny. "Let's sit outside, there are a few tables free. Get me the dark lager" she said as she went to secure our spot. I joined her soon after – a pint for her, a flight for me.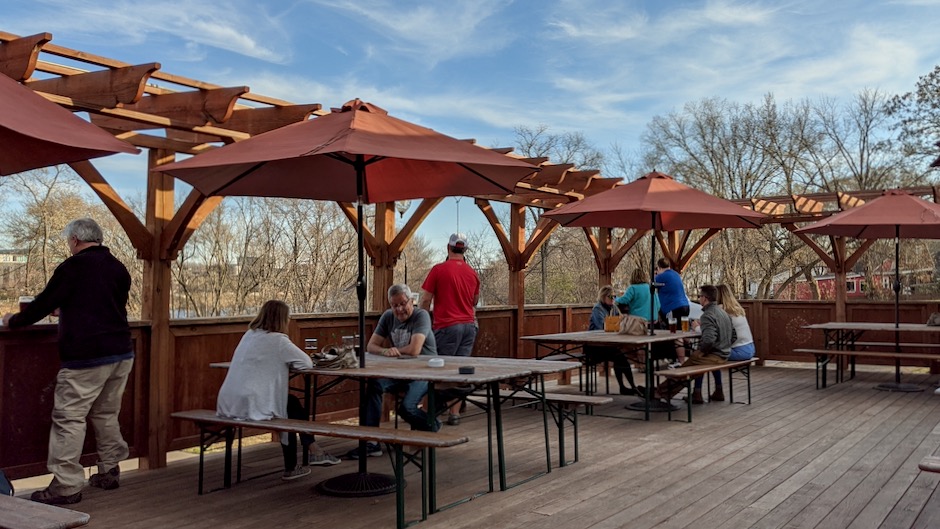 The deck had a fair amount of people; we weren't the only ones enjoying the warm November air. Midwesterners embody "make hay when the sun shines." I was preparing to hunker down for a pandemic winter. As a result, my beer tasted particularly sweet. The seating was traditional beer garden tables – weathered and worn – under large red umbrellas. A few folks stood at the rail of the deck looking out at the Chippewa River and downtown Eau Claire.
For awhile we sat and enjoyed our beers while Arlo slept in the carseat at our feet. We hadn't been able to bring him to as many breweries as we did his older sister. The pandemic put a cramp in our craft beer style. I had a feeling this might be the last chance before a long winter set in. Arlo woke up once our friends joined us. We spread out over a handful of tables, doing our best to socially distance. For awhile the stress of the year melted away. A gift freely given by a Lazy Monk.