When you are parents of a toddler, you take advantage of the rare night alone. We were one month away from welcoming another little one so those nights were about to get rarer. Pair that with the pandemic and you can understand our headspace. It was likely that a late night in June would be the last chance we'd have to spend a night together. It's was a date night at Surly Brewing Co.
I wrote the following review before Surly's 2020 temporary closure and turmoil around union busting allegations. I encourage everyone reading this to research the events before planning a visit to Surly. I support the right of workers to unionize. Please visit UNITE HERE Local 17 for detailed information on Minnesota's hospitality industry and its progress towards unionization.

A few criteria guided our choice. We wanted space for social distancing, a patio to enjoy the beautiful summer evening, food, and craft beer. Of course. That's a recipe for Surly. When they think Minnesota, most people from other states think of a handful of brands: Summit, Schells, and Surly. But Minnesota craft beer owes the most to Surly and its owner Omar Ansari for creating an environment where craft beer is a viable business. We can argue about the merits of the three tier system all day long, but it's clear that it has prevented the growth of an entire new industry (close to 200 breweries in Minnesota at the time of this writing). In a nutshell, existing laws wouldn't allow a brewery to sell beer at their taproom. But with Surly's $20 million expansion looming, they were instrumental in passing a change a law which would allow them to operate. This would forever be dubbed the "Surly Bill." If you've been to a craft brewery in Minnesota it's because of this bill.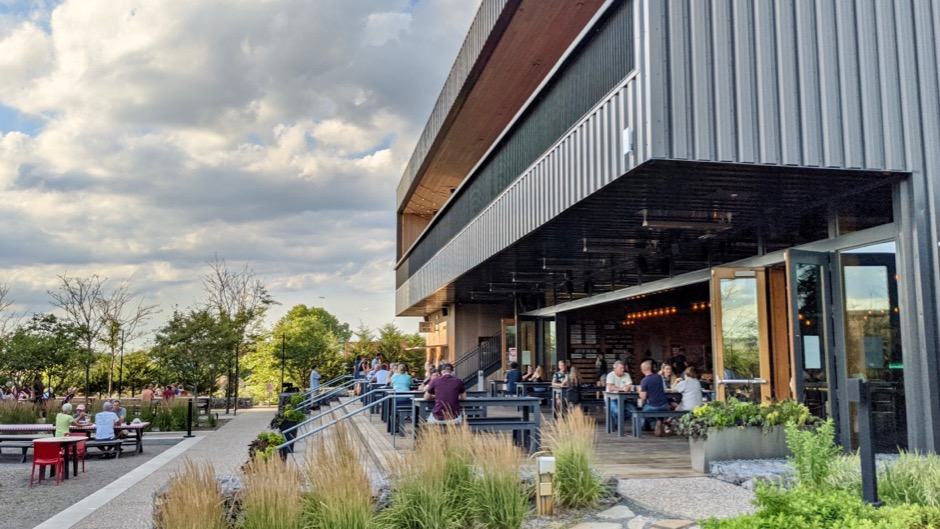 Stone Brewing World Bistro & Gardens in San Diego inspired the vision for Surly's current taproom and beer garden. If you've been to both locations the inspiration is clear. Both have tremendous food, a gorgeous taproom, and an expansive and well groomed patio and beer garden. It's my top recommendation when out-of-towners ask about breweries. It's our own local beer mecca – impressive and engaging. It demonstrates what craft beer can build.
It's hard to cover every detail of the building, so I'll give a walkthrough of a typical visit to Surly. Your first task is to find a place to park. If you're visiting during peak time this can be quite difficult. They have a massive parking lot with overflow along with some street parking. They also offer valet but I've never done that. Hot tip: when you spot Surly and the GPS is telling you to take a right – go straight and park on the street. No matter where you park you'll spot a towering grain silo anchoring one side of the patio. The brewhouse is massive. You'll know it when you see it, a stalwart building of corrugated steel.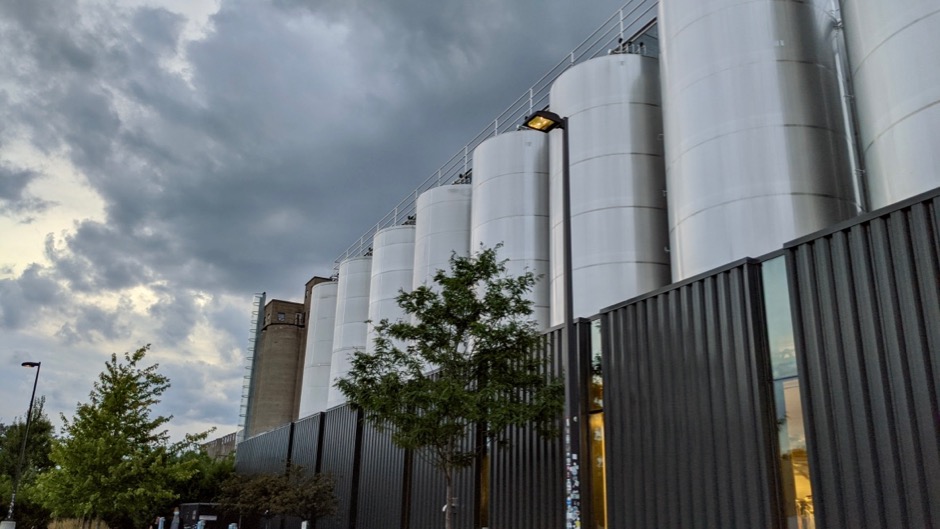 The landscaping and hardscaping guides you past a fire pit and up to a water feature where they check your ID, stamp your hand, and welcome you through their doors. After your eyes adjust you'll see a glass wall separating you from a long narrow room housing their hulking fermentation vessels. They appear to defy gravity and offers you the first of Surly's vignettes. You're now a short walk down a hallway where you're presented with a few decisions. To the left is the store, stop in on your way out. Up the stairs and you can grab a slice at the aptly named Pizza Upstairs. But the main attraction lies before you, a sprawling beer hall with a three story window at its back. Gigantic, gleaming, glorious, the lauter tun behind the window teases you with the scale of their operation and the wonders that lie within.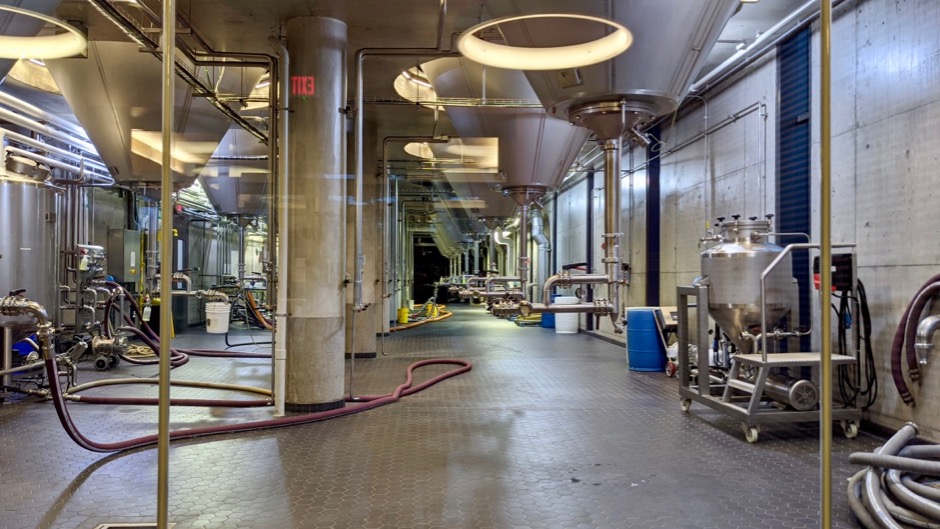 Our visit came during COVID-19. Most of the seating was outdoors on their "beer garden." That's in quotes because it's more of a beer park than beer garden. When weather is warm (as it was during our visit) they open their large bi-fold doors. Beyond that there is a small deck with beer hall seating. A few steps down and you're in the garden. There are three distinct areas: a square pit with mounds of grass, a side patio with crushed rock, trees, and a variety of tables, and a field of grass and stone with a large tent providing high density overflow seating. There isn't a bad seat.
Sure you can get pizza – and it's pretty good – but for my money the main beer hall menu is where it's at. It's upscale pub food with a German / American bent. I've never had a bad meal at Surly and that streak continued. In fact, I ordered a sausage served in brioche toast and it changed my entire attitude towards ordering sausage at a restaurant. Delightful.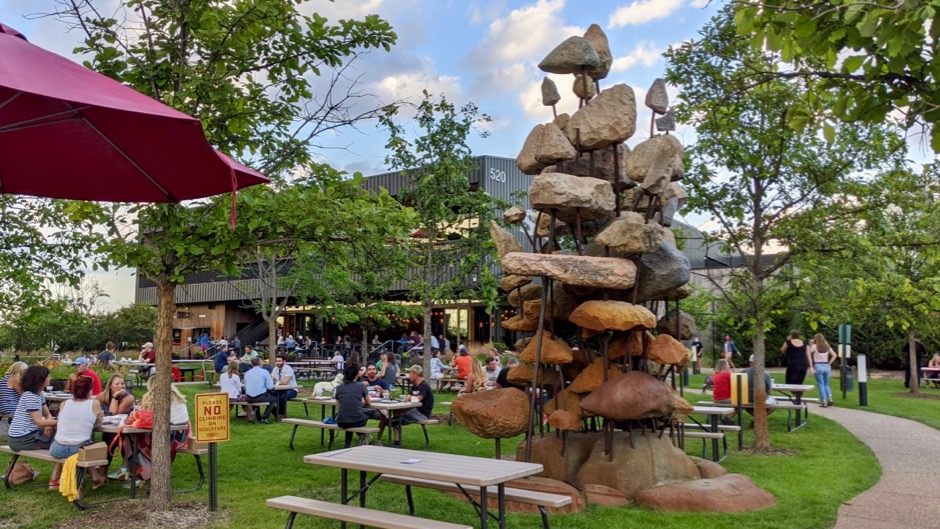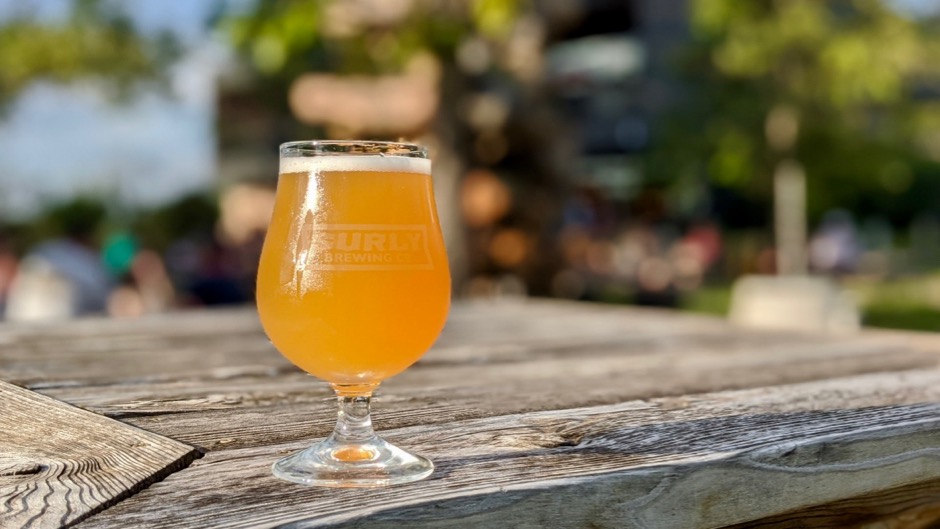 What about the beer? I'll be the first to admit that when I go to the liquor store there isn't a chance I'm buying Surly. There is a weird correlation between craft beer fans and success. The more "macro" a brewery becomes the less likely we are to order their beer. I don't particularly like Surly's canned varieties but I do enjoy their taproom only selections. Some of my favorite beers have come out of there and there are so many beers available that it's a guarantee there is something for everyone. If you see Witch's Tower on the menu, get it. It's a low ABV Brown Ale with a ton of flavor; I'm a malt head. Every brewery should have a similar beer on offer.
I don't visit Surly a lot. There are other craft breweries that I enjoy more and need my support. With one exception, I've had a delightful time there – great food, great beer, great experience. Tthey are worth a visit for every beer lover in Minnesota, and beyond. If you can control it, don't fight the crowds. Come for lunch and a pint in the beer garden. It's a destination taproom with few peers.
Newsletter
Sign up if you want to be notified of my latest blog posts as well as additional curated craft beer content.