We love the north shore of Lake Superior. My wife and I both went to college in Duluth and several times a year we return for a recharge. We've been to every state park and also completed a thru-hike of the rugged Superior Hiking Trail. Earlier this year emergency car repairs derailed a trip to Europe. Instead, we shifted gears beyond Minnesota into Ontario. Our first night would be in Thunder Bay. That meant scheduling a stop at Sleeping Giant Brewing Company.
My expectations of Canada were middling. Friends told me there would be nothing to see on the drive. The instant we crossed the border I wondered what they were looking for. The hills were steeper, the roads more winding, and the views more striking. Before hitting the city, we vanished into the interior for a pit stop at Kakabeka Falls. I love Minnesota, but Kakabeka puts our waterfalls to shame. Our "nature high" shifted as we neared Thunder Bay. Things turned flat and pastoral. Maybe everyone was right after all.
Sleeping Giant is hard to miss, look for a large bold blue and white warehouse. We entered the front door and found ourselves in a gift shop. There was no bar in sight, but I saw several people with beers. I noticed a passage to the right. No doubt they were brewing beer here, pillars of cans and a sparkling brewhouse made that clear. But there were no tables. I returned to the gift shop and asked the girl if the taproom was down the hall I had come from. She confirmed that it was.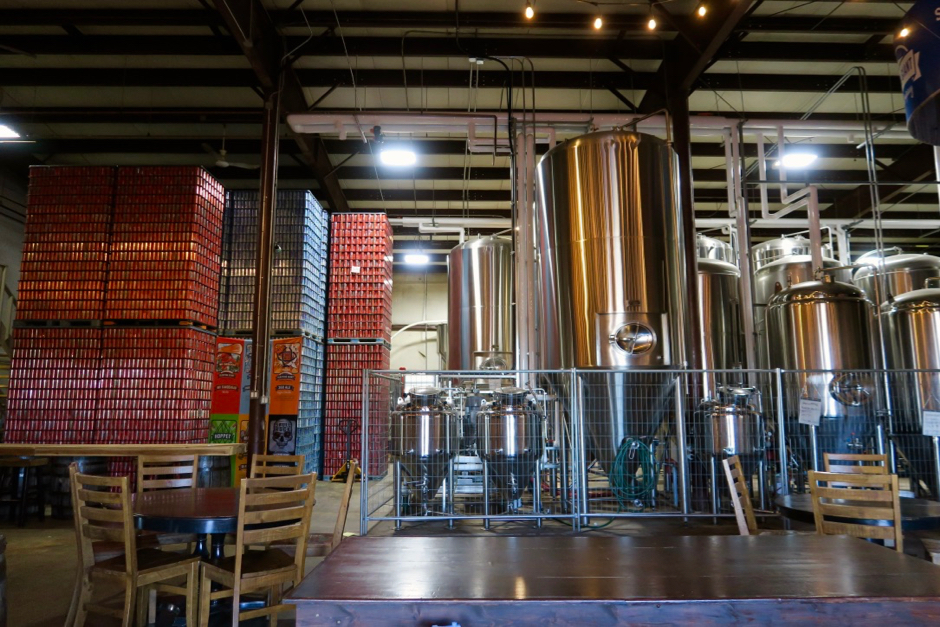 When we entered Sleeping Giant there were a handful of people loading a van. During my pre-trip research I discovered that they were holding a fall craft festival. I realized at this point that we had arrived after it wrapped up. We went further into the empty taproom and spotted the bar around the corner. There was exactly one place for us to sit, at a couch underneath some stairs. While my wife settled in and my daughter busied herself with a Little People Noah's Ark, I ordered a flight.
Not long after we arrived they began to put the taproom back together. As soon as there was a spot in the main area we moved. Better light; better experience. The taproom sits in the shadow of their brewhouse separated by a fence. They have a mix of wooden community tables, high tops, and a rail facing a square window that faces the parking lot. The stairs we sat under lead to a deck above the bar with extra seating. Beer bottles line the walls and a retrofit canoe provides the light.
I took a brief tour of the gift shop and discovered Adam Turman did their branding. Turman's illustration is all over Minnesota. Craft beer fans may recognize his murals at 612Brew, Sisyphus, and Surly. This year he added a series of statues to the North End of the Minnesota State Fair. I own several prints of his and, once you get used to his distinct style, you start to notice his art everywhere. Sleeping Giant went through a recent rebranding and they brought on Turman to replace their logo, can design, merchandise, and even their beer trailer.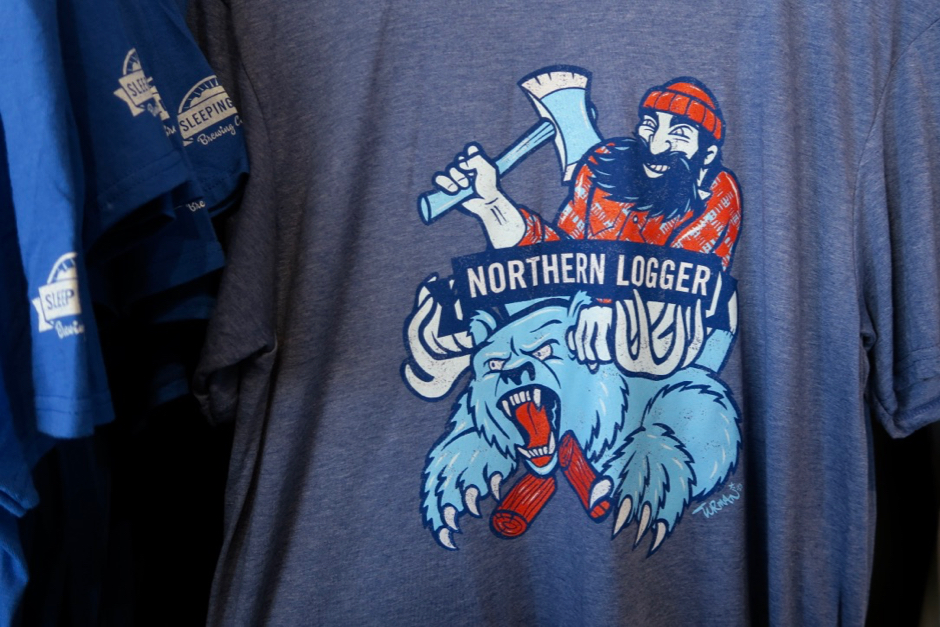 Once I locked my wife into driving us to our hotel, I ordered a second flight. By the end of our visit I tasted eight beers.
Darth Lager, Dark Lager
Skull Rock, Nitro Oatmeal Stout
White Out, Hazy IPA
Pineapple Habanero Beaver Duck, Pale Ale
Second Breakfast, Kiwi Saison
Mr. Canoehead, Hoppy Red Ale
Imminent Summer Laziness, India Session Lager
Love and Happiness, Imperial Stout
Ontario continued to deliver. It's possible my head was still in the clouds from the first leg of our road trip, but they have solid beer. Darth Lager was jet black, fresh and clean, with the ideal amount of roasted malt. The Pineapple Habanero Beaver Duck was light and approachable. It had a faint pepper aroma and the pineapple and habanero balanced each other well. A big surprise, and my favorite beer of the night. Second Breakfast was one of the better saisons I've had in recent memory, and Mr. Canoehead was a quality red ale. Love and Happiness ended my evening with my mind racing between chocolate covered strawberries and berry pie.
It was a quiet night. Only a handful of people filtered in and out during our visit. Our daughter had the run of the place, literally. The beer was approachable but had enough flair and character to make them their own. Sleeping Giant Provincial Park was our destination for the following day. If Sleeping Giant Brewing Company was any indication, we were in for a treat.
Newsletter
Sign up if you want to be notified of my latest blog posts as well as additional curated craft beer content.