We were on the last leg of our road trip. We entered Canada near Thunder Bay, and we planned to exit into Michigan through Sault Ste. Marie. Ontario was magnificent and the Trans-Canada Highway was one of the best drives we've ever taken. Forest, rivers, lakes, cliffs, and hundreds of miles of smooth traffic-free highway. It wasn't time to say goodbye; Ontario deserved one last night. We pulled up to OutSpoken Brewing to begin our farewell.

The focus of our Ontario trip was not craft beer. It couldn't be. There was a pair of breweries in Thunder Bay, and another pair in Sault Ste. Marie. Our plan was to bookend the journey with one of each. Sleeping Giant kicked off with an excellent first impression of Canadian craft beer. I also didn't do much pre-trip brewery research to cultivate our spontaneity muscles. OutSpoken won the coin flip.
Regulars of the blog know that I like small taprooms. I loved OutSpoken's. They are in a corner building with a full wall of glass on the front and an open garage door on the other. There was a couch and a handful of comfortable chairs. The taproom continued into the back but the lights were off. That space has normal tables, an interesting black and white mural, pinball machine, and bathrooms. It also borders their small brewhouse.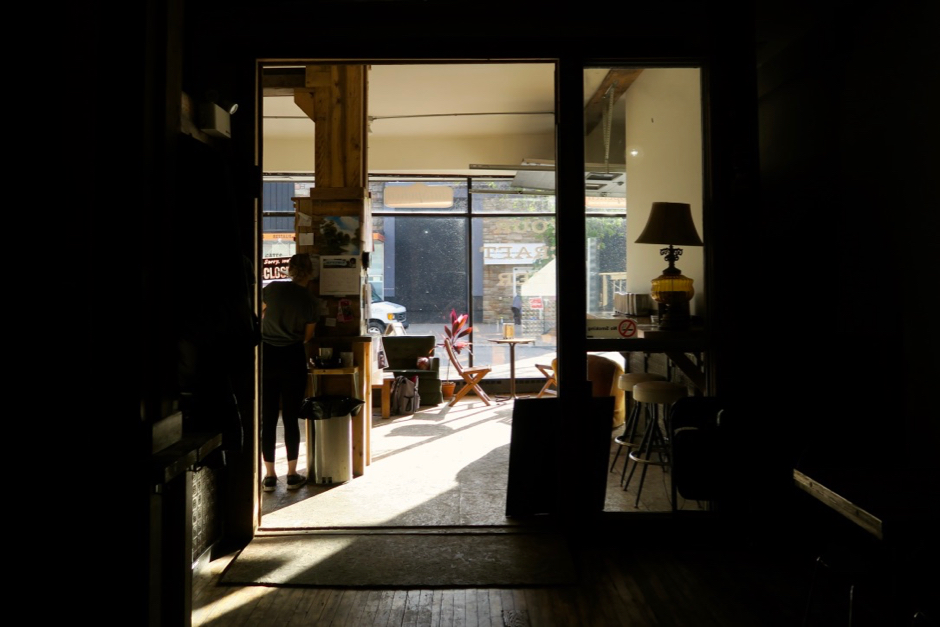 Our plan was to spend a lazy couple of hours before checking into our hotel but a few factors got in our way. First, they had a private trivia event scheduled on their patio. Second, they only had three beers on tap. Hence the void in my flight board. We began by sitting on the couch, but immediately after we got settled an overly friendly gentleman with a few too many drinks sat down beside us to chat. I don't mind small talk, but it was a bit much after the long drive. We pivoted to the patio, where we would have a little bit of time before they closed it for trivia.
That plan didn't go well either. The staff was busy prepping and organizing tables and chairs around us. I can be hyper sensitive to these things and I decided it would be better for both parties if we moved back inside. Nobody was rude at all – very friendly in fact – just one of those things. My daughter wasn't in the mood to sit on our lap and the "friendly" man had finished his beer and left, so we grabbed our original spot on the couch.
Three beers went fast. Too Easy Session IPA, Split Shot EPA, and Deadfall Lagered Ale. My favorite was Too Easy. Bright with citrus, orange, and grapefruit notes. Easy to drink, but on the hoppy side of things. A limited selection is tough. There was nothing wrong with any of the beers, but with a larger list there is more chance to find one that I could gravitate towards.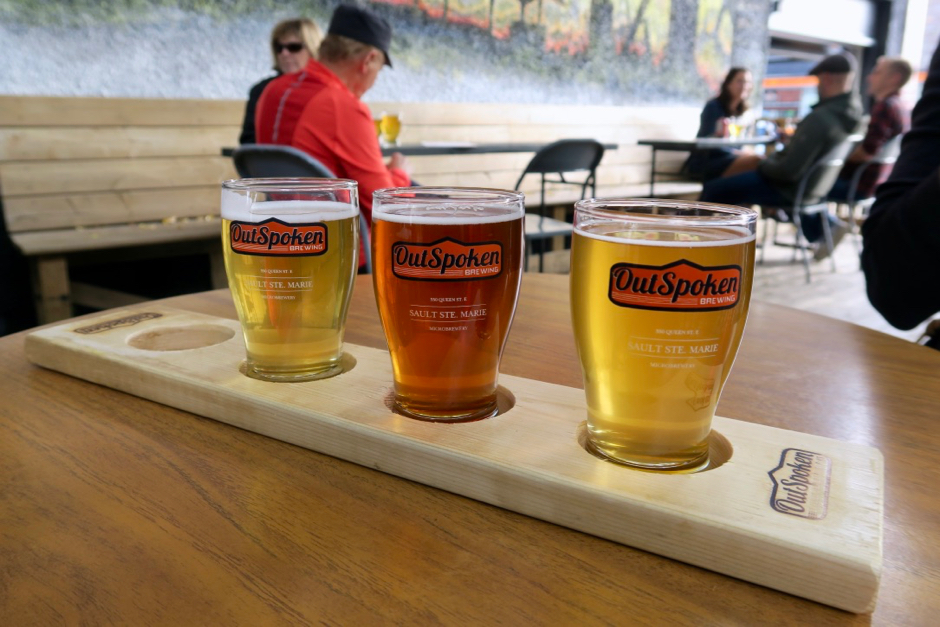 It was chilly for most of our road trip. That's perfect for hiking, but not for beer. When we arrived it was 64° in downtown Sault Ste. Marie. Both doors were open on the taproom, and OutSpoken has one of the coziest I've visited. Bottle that with the golden hour and you've got a splendid recipe. The sun began to set and we gathered our things to leave. My daughter toddled off to the car with her Timbits box in hand. We had more to explore in Sault Ste. Marie.
Newsletter
Sign up if you want to be notified of my latest blog posts as well as additional curated craft beer content.