"Remember the first brewery we went to in San Diego?" I asked my wife.
"No" she replied.
"It was after we toured the ship, we all sat around that barrel."
"Oh yah, I liked that place."
"This is the same people, but it's a bar. So they have beer from a lot of breweries."
"Do they have food? I'm hungry."
With our priorities established, we left our hotel room and took to the streets of San Francisco. A short walk away was our destination, Mikkeller Bar SF.

Mikkeller San Diego in Little Italy was the first stop of our San Diego vacation, and it remains one of the strongest memories from that trip. A gem of a taproom with a tap list full of wild and whimsical beers. I would've spent hours at their rail, arm drenched in sun without a care in the world. When I was searching for a brewery near our hotel Mikkeller Bar popped up on my phone. It was fate.
A quick refresher for those of you that don't know. Mikkeller began as a Danish gypsy brewer. In short, that means they never had a brewery of their own and instead used other brewhouses to produce their beers. Humble beginnings for a brand that now has locations worldwide, including a few of their own breweries. They are known for their innovative beers and iconic branding. Their San Diego brewery was their first foray into the United States and Mikkeller Bar SF was their first bar.
When I think of a bar, the word hostess does not jump into my mind. We had snuck in after a brisk evening walk. Two of them greeted us when we arrived and informed us of the wait. I poked my head around the corner and asked "Could we sit at the bar?" She craned her neck "Of course, you're welcome to look if there are spots available." There were two on the corner; we settled in.
Mikkeller Bar was a complete contrast to my previous experience with them. I would describe their Little Italy location as light and airy while the bar was dark and cool. The only windows were near the front of the building, nowhere near our spots at the bar. It was past dusk anyway, so the only light in the taproom was from their warm interior lights. I should've expected a dim bar but it shocked me either way.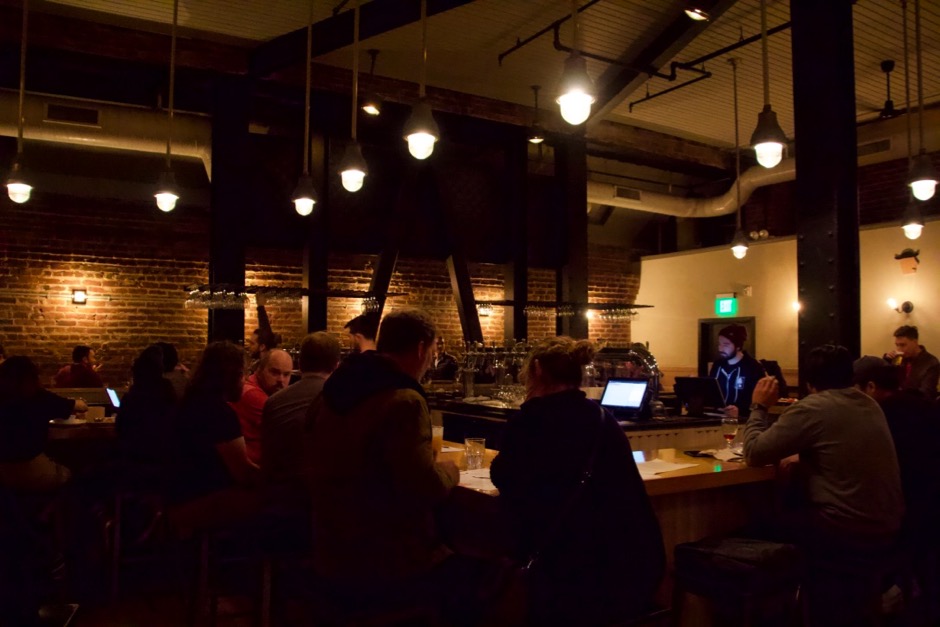 The first thing on my mind was finding a beer. We spent most of the day on our feet walking up and down the hills of San Francisco. I'm not sure if you're familiar, but there are some legitimate inclines in the city. A refreshing beer, alone with my wife for the first time in awhile was top of mind. While she looked at food I toured their gigantic beer list. It spread across multiple sheets of paper and it was hard to get my bearings. I focused on the tap selection, though there was an incredible list of bottled beers with costs that made my eyes bulge. Most of the beers on tap were from other breweries with only a handful of Mikkeller offerings. I ordered a pint of Diamond Wave, a Mikkeller and Modern Times collaboration. My wife ordered little smokies. To clarify that was an appetizer. These days you never can tell with all the crazy beers coming out.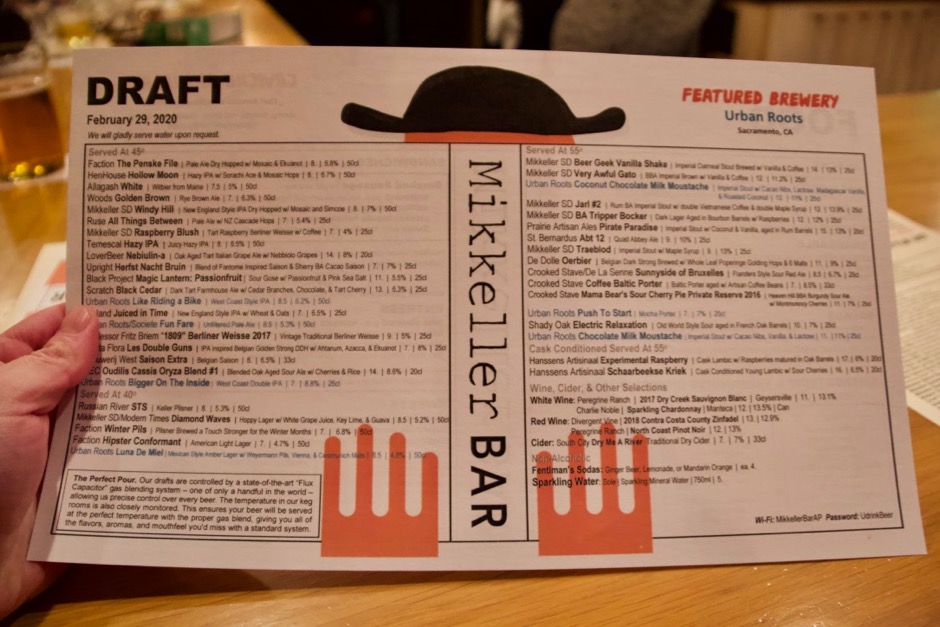 There was a large u-shaped bar, booths attached to brick walls, high tops in between, all canopied by a white wood ceiling. I'd describe it as industrial modern. I'm no interior design expert; folks that have visited can fact check me. The tap list teases something they call "The Perfect Pour." I found it online as the Flux Capacitor and it's a fascinating system – rare too – with only a handful in existence. The details are incredible. I recommend reading about it. The end result is a system that can serve beer at the right temperature with the perfect amount of carbonation based on the style and characteristics of each individual beer. It's why they've organized their tap list by temperature. I wish I knew more about the system before I visited. I would have payed more attention or asked to see it.
So how was the beer? Diamond Wave was styled as a hoppy lager brewed with white grape juice, key lime, and guava. It was easy to drink but the hops overpowered any subtlety of flavor. Not a bad beer, but underwhelming. My second pint was an Urban Roots Coconut Chocolate Milk Moustache. Anyone like Mounds bars? I do, and this was a liquid version that I savored.
On our way out my wife asked me if I saw the secret sour room downstairs. What?! I had not. I rushed downstairs to peek inside. There is a small room underneath the main taproom where they serve sours and related styles. You can also catch a glimpse of the draft system through a small window. I wish I would've known about it ahead of time, I slacked in my research.
Mikkeller Bar SF was an interesting experience. It was a blend between a modern industrial taproom, a trendy bistro, and a dive bar. I'm not sure I'm the target market. It's also possible that the crowd that San Francisco attracted might not mesh with me. I seem to like trendy things more than most – novelty and innovation scratches an itch – but I wasn't feeling it. My abnormal aversion to bars continues; I'm working on it. Though if you want to try beer from some of the best breweries in the world on a state of the art tap system, there are few other places that can meet those desires.
Newsletter
Sign up if you want to be notified of my latest blog posts as well as additional curated craft beer content.