I've written about craft beer for four years. That's about as long as I've been drinking it. I don't remember a lot of beers from the first couple of years. My palate wasn't developed, most beers tasted similar, and I had a hard time differentiating good beer from bad. One of the pursuits we attempted in those early days was to complete the Northern Ale Guide. When there is a t-shirt at stake, I'll do anything. I recall bouncing around the state on a cold December weekend trying to get the last few stamps in the book. There was one brewery that we visited that didn't make much of an impression. This summer I wanted to see how my tastes have changed after four years in the hobby. On a drizzly summer afternoon I pulled into the parking lot of Lupulin Brewing Company to see what I had missed.
I wasn't sure what to expect. Lupulin has been all over my Instagram feed the past couple of years. What I remember from our first visit was a busy taproom and a hoppy beer. That time we shared a pair of pints and then continued our Northern Ale Guide quest. I knew I hadn't given them a fair shake. Was it Hooey that put them on the map, or was it more holistic?
The taproom was quiet. I spotted the "Order Here" sign at the far end of the bar and approached. Their decor is a mixture of rustic and industrial. Like the town it resides, it's got one leg in lake country and the other in the city. The roof of the bar is a wooden lean-to with stain alternating light and dark. Large wooden columns anchor the roof to the wooden bar, complete with a live edge and corrugated metal sides. Their hop cone logo is subtle, but look close and you'll see it everywhere. Splashes of bright yellow tie it all together and provide heavy contrast against the earth tones.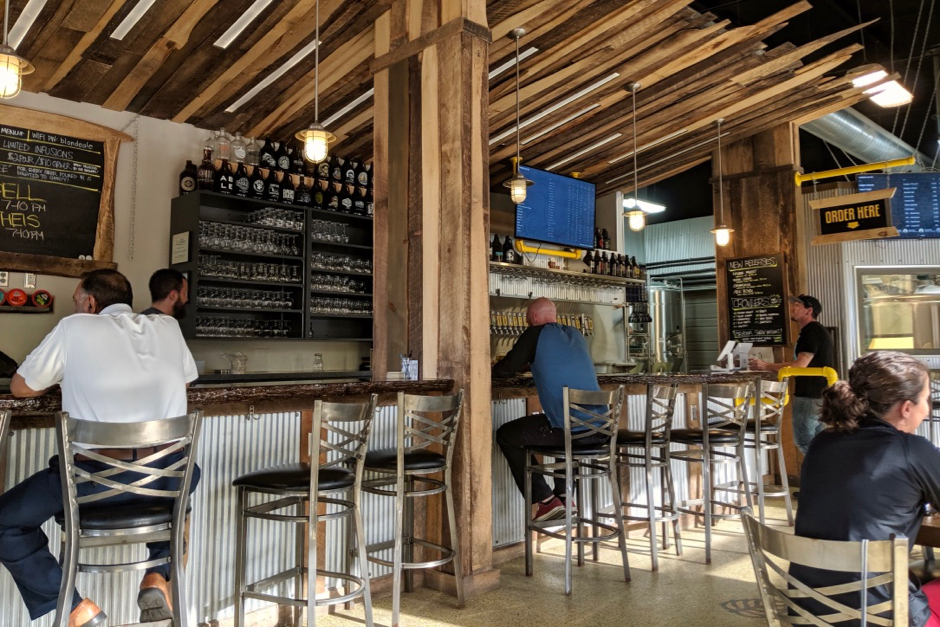 I began looking through the tap list to decide on six beers for my flight. The bartender was terse, but not rude. I'm not the kind of person that relishes insincere friendliness, but at least make me feel welcome. It took me awhile to build my flight out of the 20 beers available. When I was finally ready, a group of people paying their tabs had displaced me. To my delight, the bartender realized the next person in line wasn't paying attention and instead began filling my flight. "Pick it up if you need to move it, do not slide it." Instructions from a man who has cleaned plenty of spilled beers.
It took me a bit to find a seat. Not because it was busy, I was looking for good light. Most of the tables are community style with a handful of four tops and rails towards the front of the taproom. Once I settled in I surveyed my selections:
Black Lager
Creamsicle Cream Ale
Ark Royal Extra Special Bitter
Sterkt Fyr
Hooey Hazy IPA
Operation Collaboration – Mumford Imperial IPA
I began with the Black Lager. "Oh wow" I said to myself after the first taste. Those also happen to be the first two words of my tasting notes. The third was Prague. Certain beers have a habit of triggering memories and a well brewed dark lager puts my mind in Czechia. Theirs has a touch of roasted malt, a soft pillowy mouthfeel, and crisp finish. Perfect.
My second beer was the Creamsicle. It elicited a similar response. You won't see beers that taste like an Orange Creamsicle in Prague, especially next to a lager. There isn't much else to say. It's self explanatory and delicious. It demonstrates the range of Lupulin's abilities. I also enjoyed Hooey. It had scored well in the Growler's inaugural Unlabeled event, and it was one of the reasons I was returning. Well balanced with citrus, orange, and a touch of lemon. When I think of a Hazy IPAs I think of this.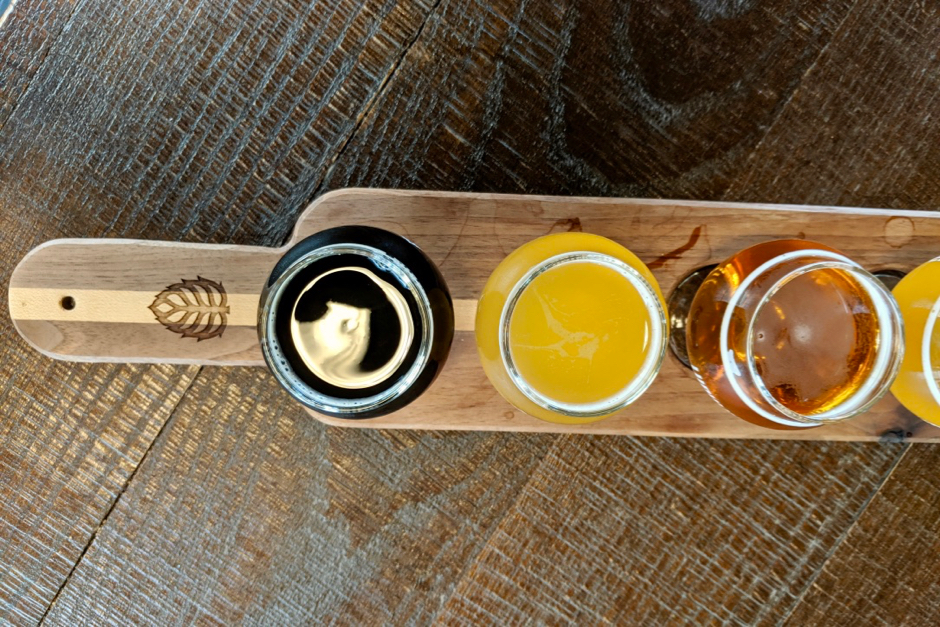 There was one exception to the great beer and that was their Sterkt Fyr. Its "Other" style intrigued me. After tasting it, I'm guessing the label was an attempt to hide this beer on the tap list. I searched online to find information and discovered it was a Strong Norwegian Style Ale. I'm not familiar with the style but based on Lupulin's description I am pretty confident it wasn't supposed to smell and taste like cheese. A common off flavor in beer caused by an excess of fatty acids. It was a collaboration with Dangerous Man, something I would think they would advertise. During the process of writing this post I have seen decent reviews of the beer and an advertisement of the collaboration. I may have tasted a bad batch. Watch out for beers labeled "Other."
Despite one bad beer – the others were excellent – it was a fantastic visit. The taproom had a quiet energy. I'll never understand people liking loud bars and taprooms. I wasn't rushing myself either. I ordered my flight, sat in the sun, and immersed myself in the beer. My goal was to check in on my craft beer journey, to see what I was missing. Turns out I wasn't missing anything, I just didn't know what I was looking for.
Newsletter
Sign up if you want to be notified of my latest blog posts as well as additional curated craft beer content.