"Do you think we'll have enough time?" my wife asked. We were standing at an overlook within Rocky Mountain National Park. Ahead of us the Trail Ridge Road was closed for the season. "If we leave now and we don't stop, I think we can make it work." I said. Our plan was to visit two breweries that afternoon. "I'm glad the fog lifted, this was worth the drive." I said. A thick fog had covered the valley on the drive up to our summit. It had just cleared, giving us an incredible view of the valley below. "Who's driving?" I asked. "You," my wife responded. Jessup Farm Barrel House was waiting.

Usually a brewery jumps out at me when I'm doing trip research. This time it was Jessup Farm. I've always wanted to visit a farm brewery and they're the closest I've gotten. They aren't located on a farm, it just looks like it. They've taken a 133yr old barn, restored it, and placed it within a 13 acre artisan village. We only had time for beer, but coffee, food, and craft goods housed in charming wooden buildings is right up our alley.
We wound our way through the stacked barrels on the main floor and climbed the steps to their taproom upstairs. They have exposed wooden beams, wooden floors, and light fixtures hung from the ends of old cable reels. As expected, the decor is rustic. Their bar runs nearly the length of the room and has weathered tin framed by red wood. Each bartender sports a Hawaiian shirt, providing a splash of contrast. It's a small room and it was packed. Luckily, there was a spot near the window next to another stack of barrels where setup our base camp.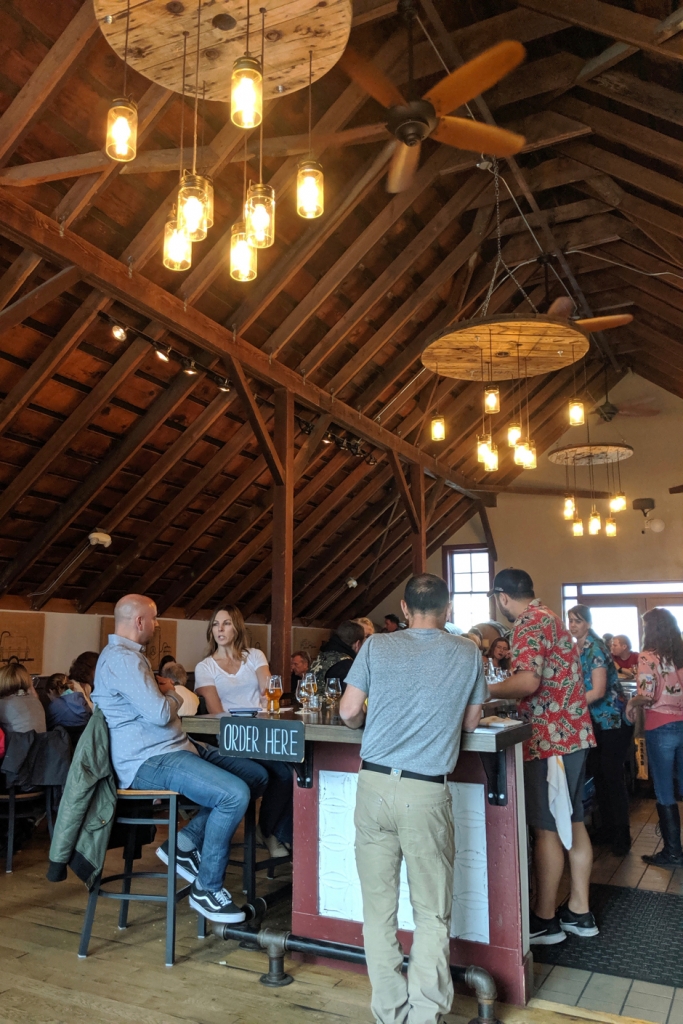 They have themed beer flights. I ordered the Funky Flight and my wife the Flight of the Concord. A Barrel-Less Flight and an IPA Flight were the other two options. You can also build your own. They claim each flight is 5oz but they use regular sized glasses and I swear they contained more than that. I wasn't going to complain.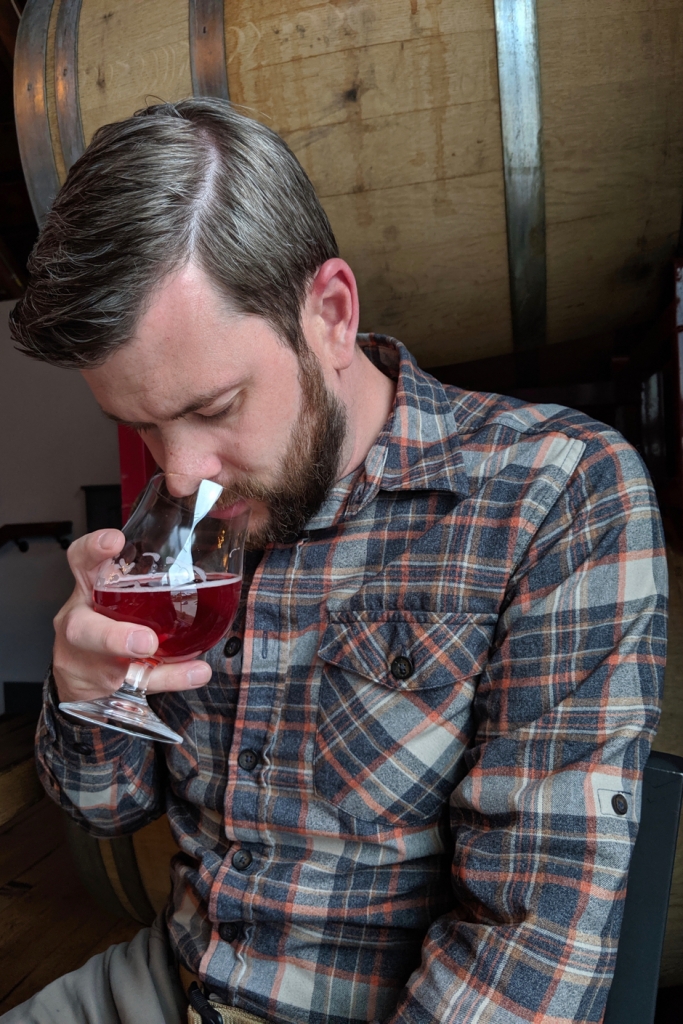 My wife graciously let me participate in her flight, which means I tried eight beers total.
UB Funky – Barrel-Aged Brett Red Ale
Sangriaweizen Nitro – Red Wine Barrel-Aged Wheat Ale
Fancy Pants V9 – Dry-Hopped Oak Barrel-Aged Brett IPA
Happy Creatures – Dry-Hopped Oak Barrel-Aged Brett IPA
Jimmy Buffet Problem – Rum & Bourbon Barrel-Aged DIPA
Hurry Up & Wait: Cherry Boysenberry – Oak Barrel-Aged Quick Sour
Wheelhouse – Bourbon Barrel-Aged Brown Ale
Wood Knot – Bourbon Barrel-Aged Stout
My notes are extensive; the beers were fantastic. Complex but not over-powering. They managed to keep the ABV relatively low for having aged in barrels. And the full size glasses provide ample opportunity to capture the aroma. Jimmy Buffet Problem was one of our favorites. Heavy rum notes smoothed by coconut and balanced with pineapple. At 9.9%, it was definitely a problem. Happy Creatures was my top beer earning two stars in my tasting notes (rare). First impressions matter, and this impressed from the first drop. Nothing that unique just a well balanced IPA with bright fruit notes and a perfect sour complement. We purchased three bottles to take home and they came in a unique cardboard carrier. Their logo was stamped on the front, an illustrated fox head. Simple but stylish.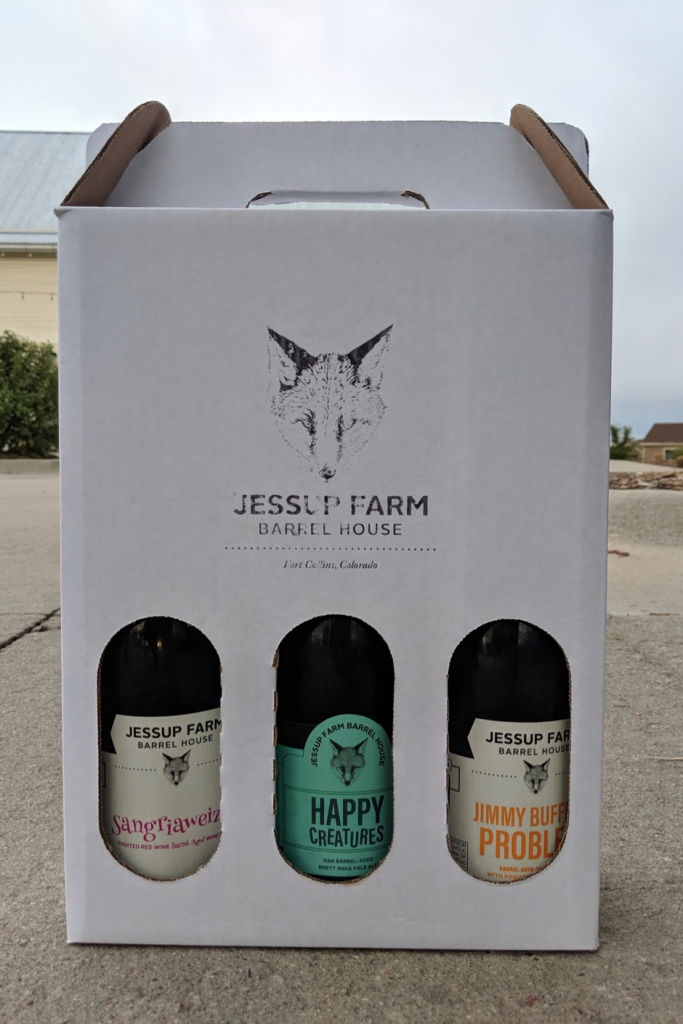 Jessup Farm Barrel House was the best brewery of our trip, no question. My only regret was not double checking our camera. The settings were messed up, which meant that not a single photo was useable. A huge loss, since I really enjoyed their vibe. No photos survive of the building or the patio. It was too cold for the latter (49 degrees) and I'd describe it as simple crushed rock with great views of the artisan village. Their beers were the easiest drinking barrel-aged beers I've ever had. I would return to Colorado for them.
Newsletter
Sign up if you want to be notified of my latest blog posts as well as additional curated craft beer content.