Most online gift lists are a joke – poorly researched cash grabs to farm affiliate sales from hapless gift givers. I appreciate heavily curated lists backed by real experience. That's why I made a list of goods that I personally back since I've researched, purchased, and used everything on it. If you're looking to buy a gift for the craft beer lover in your life, look no further.
Pop Chart Posters
I still remember when I saw my first Pop Chart poster. The advertising gods wisely shoved one of their beer infographics in front of my face. Before I knew it, I was wondering if my wife would let me hang posters of superpowers, video game controllers, or birds. I've never been more literal in my life when I say they have something for everyone. But you're here for beer. They have several posters covering the many styles, and my favorite of the bunch is The Diagram of Beer. Looking for something a bit different? Don't sleep on their collection of wine, whiskey, or cocktail posters.
GrabOpener
For many years I had to ask to borrow bottle openers. Tired of being "that guy" I went on a quest for the opener to end all openers. My requirements were that it should be small, easy to use, and not leave creases in the caps. After digging through internet forums I found the GrabOpener. It's everything I was looking for, and more. It ticks all the boxes above, plus it's got a magnet for easy storage on the beer fridge, a tail for beer cans, one-handed operation, and it's made in the USA. I bought it in black, but they have many colors available including blue, orange, red, gun metal, and pilsener gold.
Sling Growler Pack
I received a Frost River Sling Growler Pack as a gift and it's now critical to my craft beer arsenal. It's got their signature waxed canvas, a padded foam lining that provides protection and insulation, an adjustable shoulder strap, grab handle, and a cinch top that protects the growler while still allowing you to pour beer without taking it out. They also handcraft each one in Duluth, Minnesota. For my money, there is no better way to transport a growler. It does a damn good job, and looks damn good doing it. It's worth noting that I'm a brand ambassador of Frost River but I do not receive any benefit from sales of their products.
The Complete Beer Course
The Complete Beer Course is a fantastic guide to beer. It's good for both novices and enthusiasts as it provides history of individual styles, tasting guidelines, and plenty of examples of each style. There is also a pair of introductory chapters that give you a solid base for what's to come. I took the name literally and went through the book style by style buying and tasting beers along the way. They provide names of beers for every style which, coupled with tasting notes, provides a great introductory education to craft beer.
Craft Notes
There are a bunch of craft beer passports out there. Most are the same, and they're all a great deal. But Craft Notes takes a different approach. They are mixing different types of drinks – beer, coffee, cocktails, and cider – and pairing them with a theme. Sustainability is the name of the game with their fourth edition, featuring establishments that are committed to reducing their impact on the environment. It results in a heavily curated list of locations printed into a beautiful package that features screen printing by local artists and high quality photographs. Did I mention that it's sustainable as well? It has soy-based ink and 80% recycled paper. If that wasn't enough, it features free drinks from some of my favorites: Bang, Bent Paddle, Pryes, and Tattersall. Use the coupon code taptraveler for $1 off and free shipping.
Moleskine Passions Beer Journal
You'll see two things when you spot me at a brewery, my camera and my Moleskine journal. It's critical for taking notes on each brewery and there is something about pencil on the page that taking notes on my phone can't replace. When traveling it becomes even more indispensable, since I use their back pocket as my wallet. I go for their classic but they also have a beer journal which features themed sections, reference information, stickers, and more. If you've heard someone mention "mouthfeel" this gift may be a good bet.
Small Batch Pins
There is something about pins that give my eye a twinkle. I have a bowl sprinkled with pins from all over the place. They are an easy purchase, don't take up much room, and provide a simple and flexible way to accessorize. Put them on a hat or a bag and you've got a classy way to express yourself. The duo at Small Batch Pins is creating some of the neatest little pins your eyes will ever see. And they truly do create them in small batches, while maintaining an inventory of certain styles available year round. Keep your eyes peeled for special editions at various breweries and events.
Magnet Sheet and Xacto
This seems out of place, but stay with me. Breweries have stickers. Beer lovers have beer fridges. It's a match made in heaven. Lots of folks plaster their fridge full of stickers and then lose them if they have to replace or upgrade it. No longer! Buy a magnet sheet and an X-ACTO knife and you can have faux die cut magnets that can be moved wherever the heart desires. Help your friends and family break free from the chains of adhesive.
Freaker USA
It's an open secret that I don't like koozies. You end up with drawers full of them, each commemorating an event long past. They do the job advertised but I never have one when I need one. When I need one, I don't want one. What makes Freaker USA different? They're more comfortable, more versatile, made in the USA, and more fun. Look through their styles and it won't take long to find one that fits perfectly for who you're buying for. I guarantee a couple of chuckles along the way.
Tasting Beer
If you've got a serious craft beer drinker on your hands then you may want to consider Tasting Beer by Randy Mosher. It's a dense tome but an essential text if you want to explore different styles, determine what beer pairs with what food, identify off tastes, and much more. I'm still working my way through it on my long path to becoming a certified Cicerone and Beer Judge and by all accounts it's critical to the process. This year when I settle in with a beer I'll have this book at the ready.
Small Batch Glassware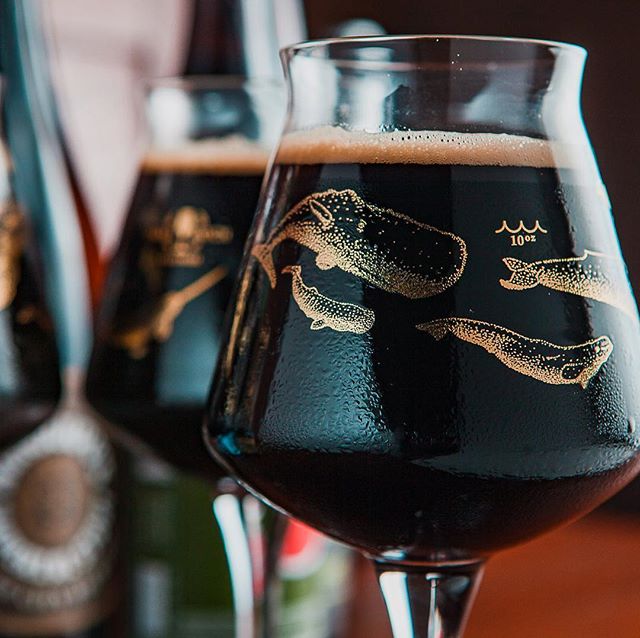 While I don't strictly own a glass from Small Batch Glassware, their All The Whales teku glass has a home on my gift list. It's my favorite style of glass, coupled with gorgeous gold print, and a clever nod to bottle chasers everywhere. For those not in the know, in the world of craft beer a "whale" refers to rare beer that may even be unattainable. If you're buying this for someone that is frequently hunched over their beer taking a photo for their Instagram feed, then this glass will be welcomed with open arms and a thirsty smile.
Newsletter
Sign up if you want to be notified of my latest blog posts as well as additional curated craft beer content.