The plan was to drive through Denver on our way back to Minnesota from Moab. These days, researching our destinations includes a heavy craft beer component. With over 400 breweries in the state and 100 in the Denver area, it wasn't easy to narrow the list down. We were spending the night at my friend's home and the plan was to meet him at a brewery beforehand. After comparing notes with him it seemed the best use of our time would be to visit the RiNo neighborhood. Due to the density of breweries in the area we would have a lot of options. Though one place sounded particularly intriguing: Bierstadt Lagerhaus.

I love a good Pilsner; word was Bierstadt Lagerhaus had a good one. We've been to Prague, we've been to Munich, and we've bounced around Bavaria. Simply put, we've had good Pilsners. If there is a lager on a tap list, I'll order it. It's why some of my favorite Minnesota breweries are Bauhaus, Waldmann, and Summit. Bierstadt's claim to fame is The Slow Pour Pils. More on that later.
It took us a bit to get our bearings. The 21,000 square foot warehouse has a bunch going on. Firstly, there is the production of Bierstadt Lagerhaus and C Squared Ciders. Then there is a cavernous beer hall. We stumbled upon this right away, it's hard to miss. They have giant versions of beer pong, corn hole, Connect 4, and Jenga. You can even play Super Nintendo on a giant screen! Our plan included food, and we poked around before we discovered the Rackhouse Pub on a mezzanine overlooking the facility. They've got a kitchen and also function as a tasting room for both Bierstadt and C Squared.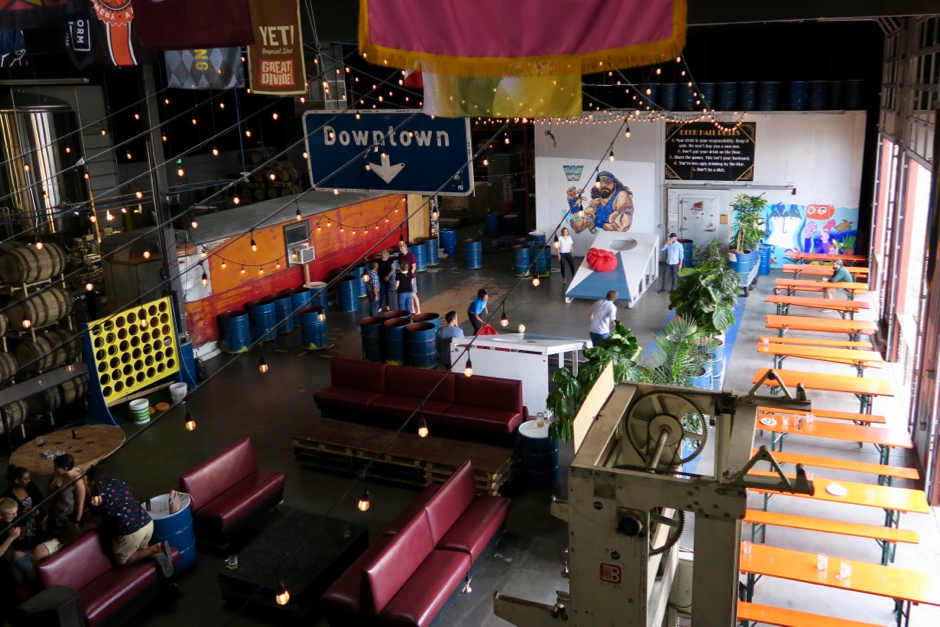 We squirreled ourselves in the corner to let our daughter let out some energy. A server arrived soon after we settled and I put my order in for their famous Pilsner. It's called The Slow Pour Pilsner because you'll be waiting about five minutes for them to pour it. Their technique smooths out the carbonation and lets the flavors and aromas shine. Think of it like like simultaneously aerating and decanting a wine. And the process is more complex than pouring a Guinness. First you fill the glass with two thirds foam, then allow it to settle, fill until the foam reaches the rim, settle once more, then drip until the foam creates a pillowy head above the rim of the glass.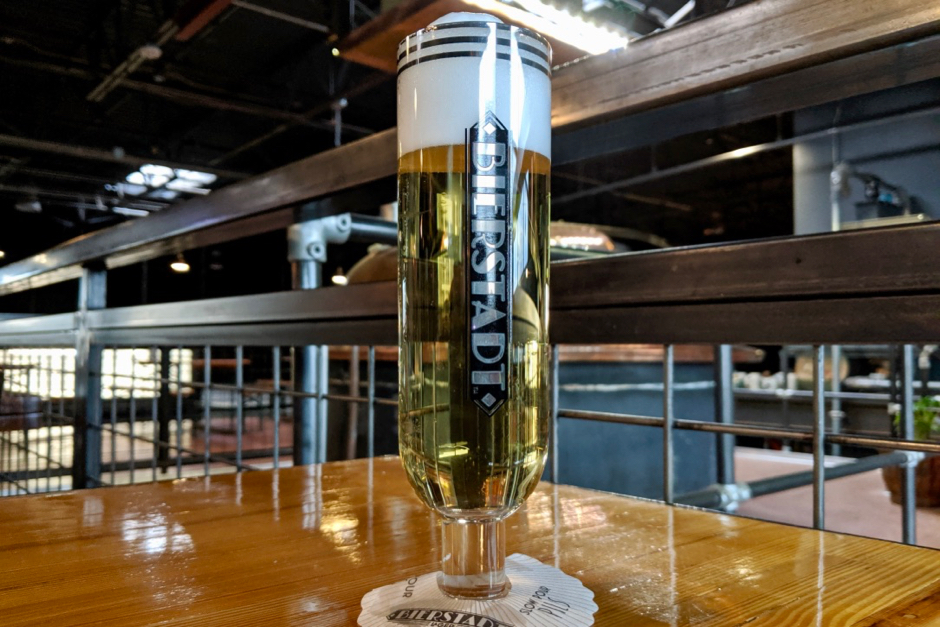 Our friend Pat arrived shortly after my Pils and while he was deciding on a beer we ordered food. The menu is standard pub fare, I went with the Adult Grilled Cheese. The Rackhouse has tables that ring a large central bar. You're able to peer off the edge of the mezzanine to see the warehouse below. Slight knock on how dark it was. The ceiling is black and their are only a handful of windows providing natural light. Minor issue.
The corner we sat at provided a view of their 84′ copper brew kettle. I learned later that Bierstadt conforms to the Reinheitsgebot. It's a beer purity law (a topic I've written about before) that limits the brewers to four ingredients: water, yeast, malt, and hops. This leads to a variety of beers that you can count on one hand. With a tap list that small, the beers better be good. They are. The Pilsner was straight out of a german bier hall, crisp with the perfect balance between malt and hops. Their Helles is light and creamy with a hint of cereal grains and a splash of hops. It disappeared.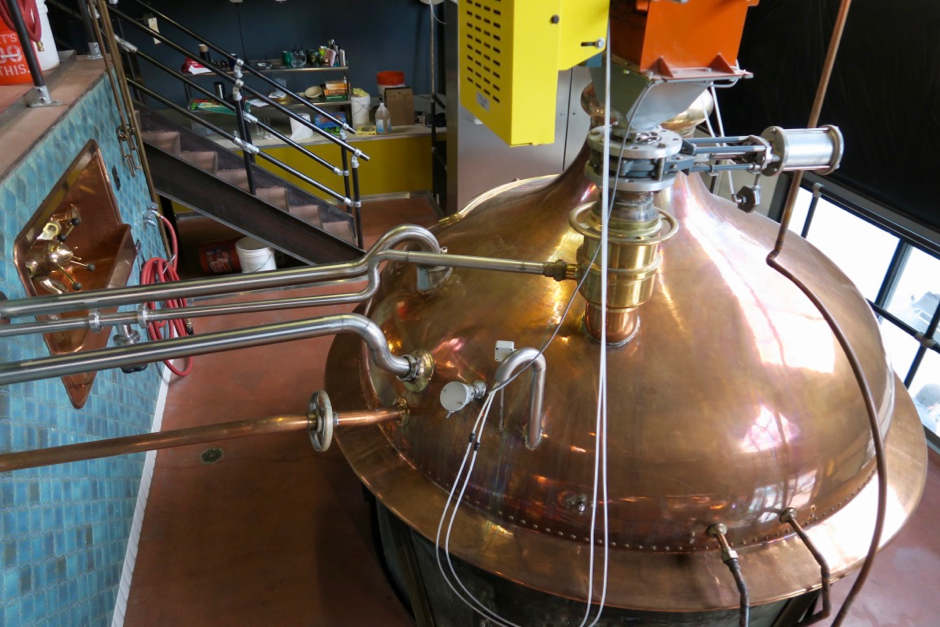 People were starting to flow into the tasting room when we were leaving. With a trendy neighborhood like RiNo I'm guessing that the vibe changes as the sun sets. It was very subdued during most of our visit which is no problem for me. Bierstadt's goal is to brew traditional balanced German style lagers with high enough quality that they stand out among the bold flavors and fluctuating trends of the American craft beer market. It's working.
Newsletter
Sign up if you want to be notified of my latest blog posts as well as additional curated craft beer content.