We're experiencing a renaissance of craft beer across the country and in 2016 Minnesota really hit its stride. With a new brewery opening weekly there were a glut of new breweries to visit and a many others establishing themselves within the community. Since it was my first full year blogging and after visiting over fifty breweries, I figured it would be worthwhile to do a recap of my year in Minnesota craft beer and hand out some awards for my own personal favorites. Read on to see the winners!
Best Branding / Bauhaus Brew Labs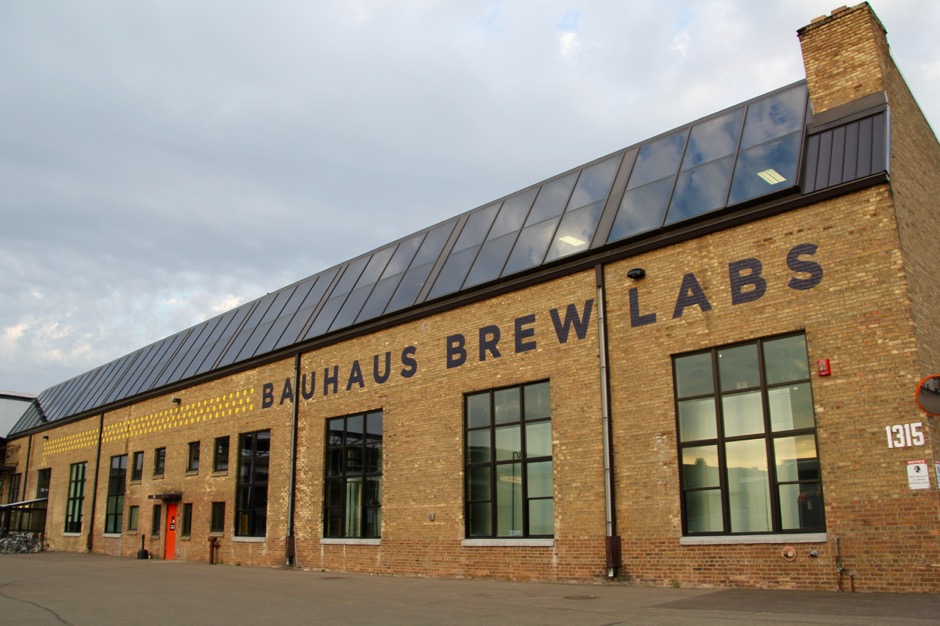 This was one of the hardest awards for me to determine. As I've mentioned previously, I'm a sucker for good branding and there is no shortage of choices within Minnesota. In the end I had to give the nod to Bauhaus Brew Labs. With their incredibly bold colors, fantastic logo and identity, beautiful can and container design, and possibly the most striking taproom in the state, it seems like a no-brainer in retrospect. Near or far away it's easy to tell when someone is drinking one of their beers and if someone dropped you in their taproom you'd see their branding is consistent throughout. I would expect nothing less from a brewery named after one of the world's most famous art and design schools. They've got a great social media presence as well. Check out their videos if you haven't seen them before, good stuff!
Best Patio / Urban Growler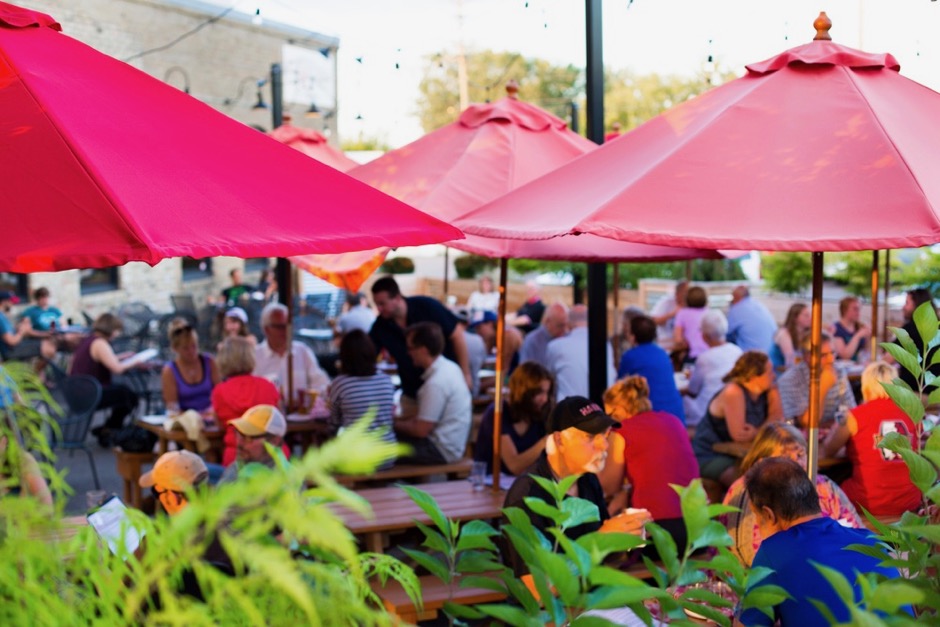 Tucked into the industrial area of northwestern St. Paul sits an oasis of calm and relaxation: Urban Growler Brewing Company. This was one of the first breweries that my wife and I visited so we've got a little bit of a soft spot for it. There is something about drinking in the shadow of an old brick horse stable that evokes the past and grounds you in the present. With plenty of bright red umbrellas and a healthy amount of seating it's the perfect summer spot. Beer, food, and live music doesn't hurt either. Plan accordingly, because it gets busy!
Photo courtesy of Urban Growler Brewing Company
Best Destination / Voyageur Brewing Company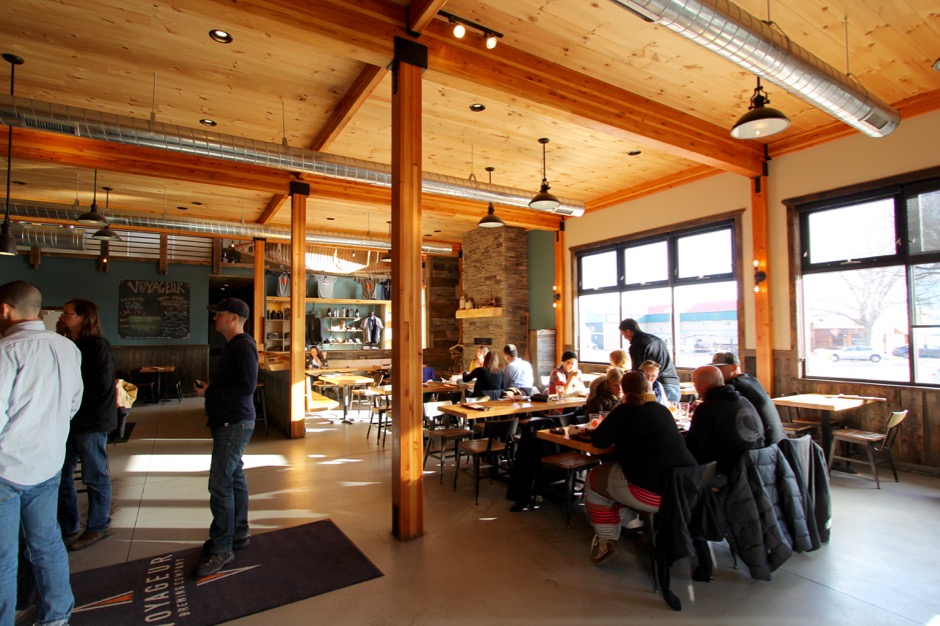 If you're in the metro area you're in for a four to five hour drive, but what awaits you is worth it. Voyageur Brewing is located right as you enter Grand Marais and it's a must stop if you're in the area. I thought about calling this award the Best View since their rooftop patio offers gorgeous views of Lake Superior but that would do a disservice to everything else they do right. They've got reclaimed wood decor, a cozy fireplace for the winter, beautiful art from local artists adorning the walls, and some tasty appetizers to snack on. Their beer is nothing to sneeze at either! You can even make it a weekend road trip with plenty to see and do in Duluth (including more breweries), your pick of state parks on the drive, and a bevy of outdoor options to work off those calories.
Best Vibe / Bang Brewing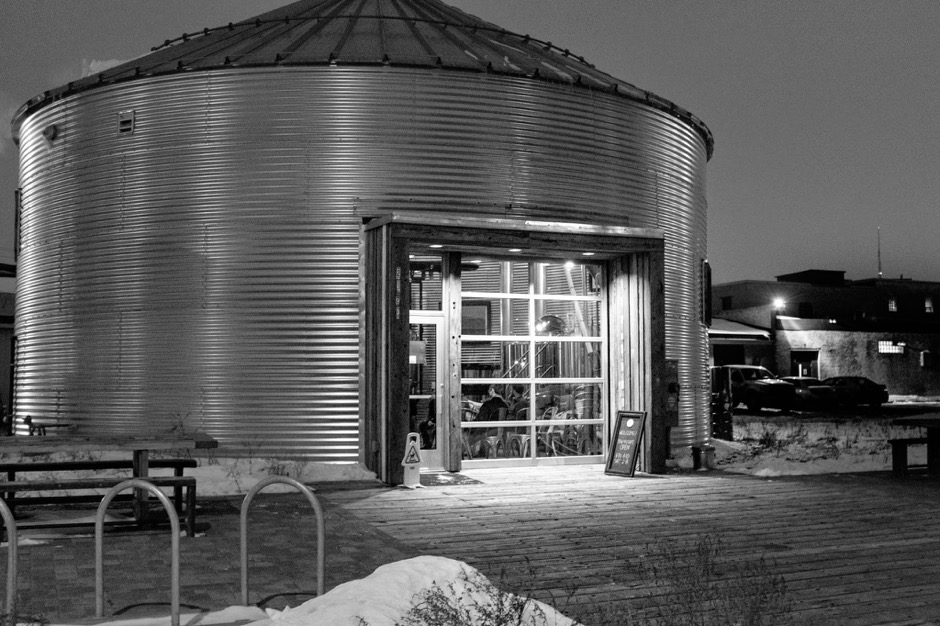 This brewery is commonly known as "the one in the grain bin" yet there is more here than pure novelty. Definitely visit if you're looking for something unique but stay because they've refined the art of a relaxing time. With a tiny bar and only a handful of chairs they are perfect if you want to just sit and talk. Of course, While drinking some of their excellent beer. Last time I was there they had Umphrey's McGee playing in the background which set me in a great mood for the remainder of the night. This is one of my musts when showing visitors the range that craft beer has to offer in Minnesota. If you're looking for them on Facebook, don't bother. They've got a sparse website and they only post on Twitter, which further adds to the mystique that is Bang Brewing.
Photo courtesy of Bang Brewing
Best Surprise / Goat Ridge Brewing Company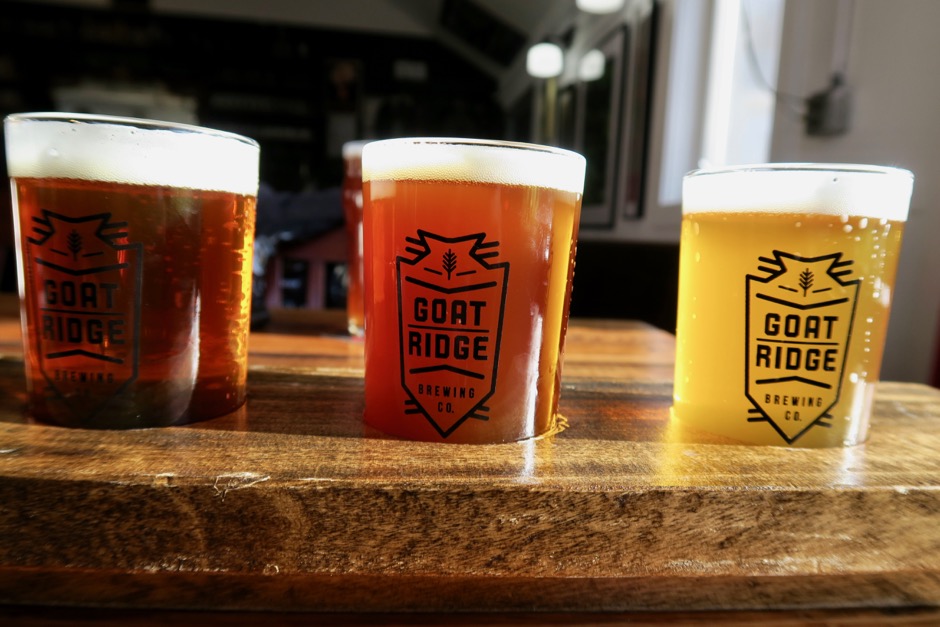 During our Northern Ale Guide adventures last year we found ourselves at Goat Ridge Brewing Company on a cold Saturday morning. I'd heard absolutely nothing about this place other than reading their short description in the guide, so my expectations were non-existent. What we found blew us away! They are located in a small building and the attention to detail inside was great. There is a cute bar and a mix of seating choices. The spot we snatched was in the windowed corner with sun drenching our table. Looking out the window I regretted coming so late in the year because they have outdoor seating flanking a nice little stream. We couldn't stay long, but we'll be back this summer.
Best Food / Forager Brewing Company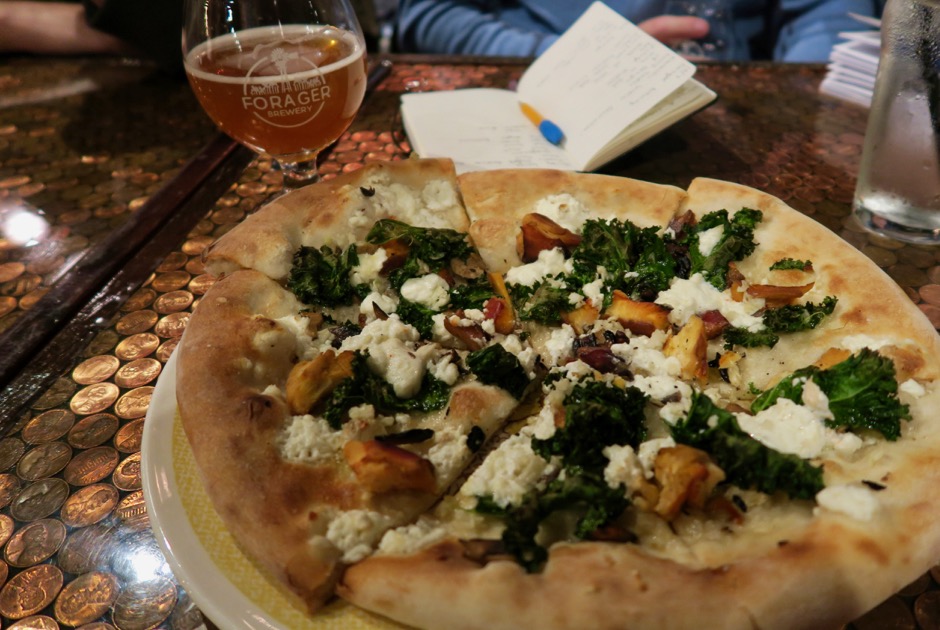 We've only been to Forager Brewing Company a handful of times, but we've never been let down by their beer or their food. They specialize in foraged, locally sourced, and seasonal ingredients which results in delightful dishes year round. We're mushroom fans so the wood fired foraged mushroom pizza and mushroom soup found a nice home in our stomachs. Their adventurous beer complements the food and their family friendly atmosphere makes this a recommendation for anyone. Worth the trip to Rochester for certain.
Best Individual Beer / Insight Brewing (Hell Chicken)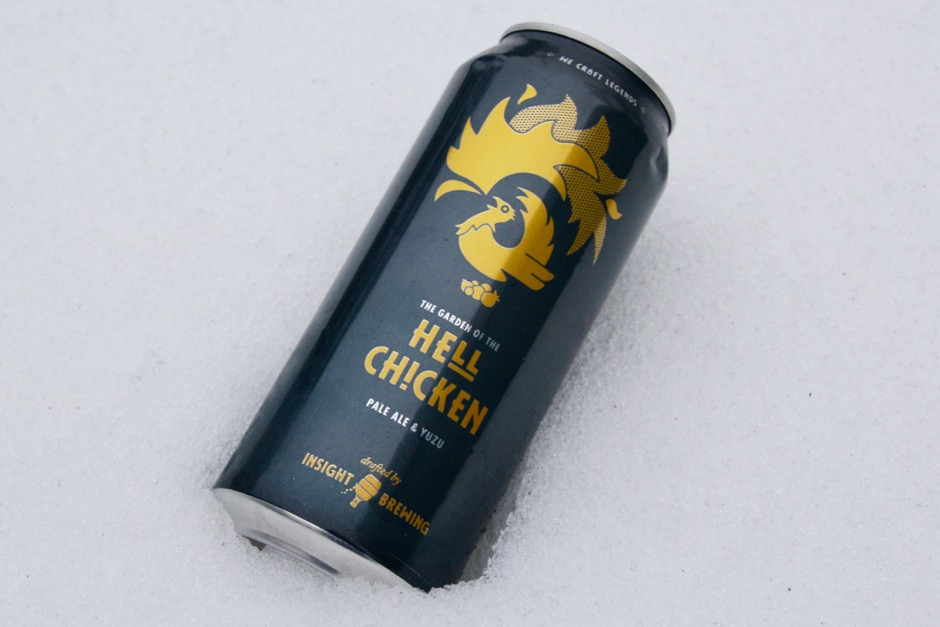 Simply put, this beer took my summer and made it better. The Garden of the Hell Chicken by Insight Brewing is a pale ale brewed with the Japanese yuzu fruit. If you've never heard of that it's like a tiny yellow grapefruit with culinary usage that is similar to a lemon. However, when you add it to a pale ale it's citrus and mandarin notes create a clean fruity flavor that leaves me ready for more. While it's the perfect summer beer, I drink it year round. Insight claims they craft legends, and in my book Hell Chicken is truly legendary.
Best Beer / Indeed Brewing Company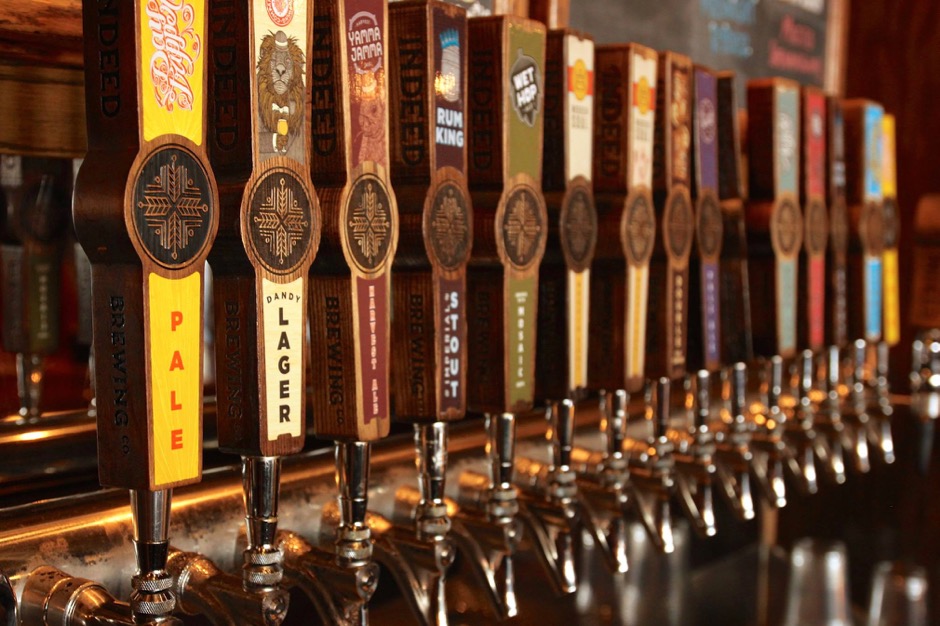 Indeed Brewing Company is one of the favorite breweries of many in Northeast as well as the entire state. It's really no coincidence that they have some of the best beer. That's what keeps people coming back and it's rare a trip to the bottle shop that doesn't result with Indeed beer stocked in my fridge. With a handful of yearly available beers and a continuous rotation of other more seasonal recipes it's easy to find something for everyone. If you're interested in specifics consult their beer calendar to find that beer that piques your particular interest. For my money their Day Tripper pale ale is great for any time and occasion. The Mexican Honey Imperial Lager is something very different than your typical lager and might kick your pants off if you're not careful. And with their Derailed (experimental) and Wooden Soul (sour) programs they're proving that the status quo doesn't interest them. They've also got a nice habit of having themed flights throughout the year with very limited releases. Their beer is distributed over the entire state so if you see one of their beers on a tap list I'd highly recommend giving it a shot. If you don't like it then I'll buy your next one!
Photo courtesy of Indeed Brewing Company
Best Taproom / Bad Weather Brewing Company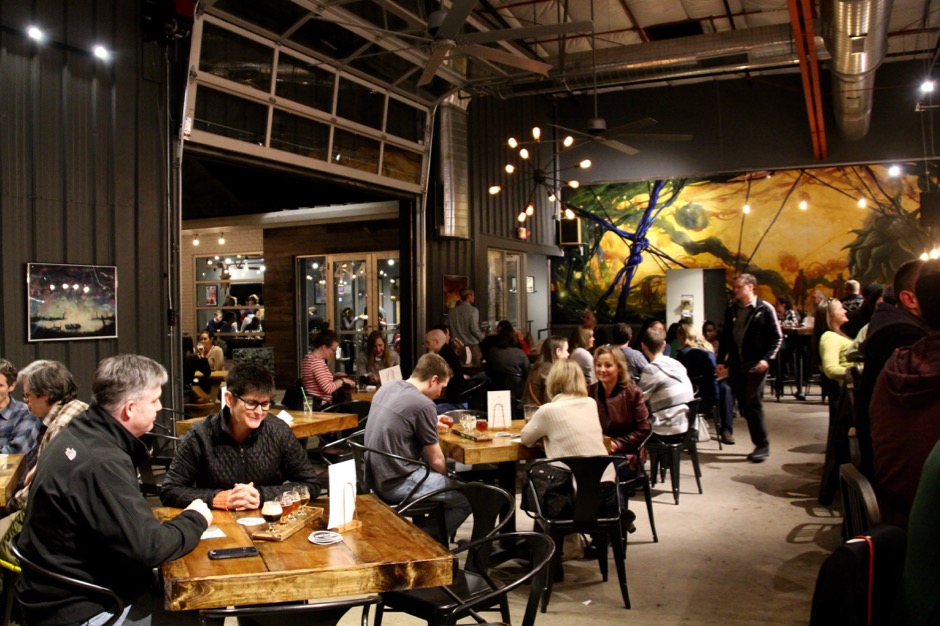 This may be a sneaky surprise to most but for those that inquire "What's your favorite place to go?" my answer will unequivocally be Bad Weather Brewing Company. That question is quickly followed by "Why?" and my answer is usually the same. They've got a great taproom: high ceilings, a beautiful mural from local artist Lucas Gluesenkamp, arcade games, excellent beer, housemade sodas, great views of their brewing equipment, friendly staff, nightly food trucks, and a intimate but lively patio. Their light science fiction theme provides that air of mystery and imagination that is in the hearts and minds of all craft brewers. That is why I can say with confidence that Bad Weather Brewing Company had my favorite taproom of 2016.