"Did you hear that we are planning a trip to California next year?" my wife asked. "That's a big state, whereabouts?" I asked. "We were thinking of San Diego actually" she said. "San Diego?" I responded. Like a burst of carbonation from a bottle, images of craft beer cracked through my mind. Sure the weather would be beautiful, the beaches plentiful, and the food splendid. But it's a craft beer mecca, surely that's why we were going?
It wasn't. My brother in-law David was the only one who knew the #brewtiful riches that San Diego had to offer. Take one look at Pop Chart's Breweries of the United States and the area beckons to any hophead. It's brimming with breweries, 155 by the last count, and it's almost 200 once you include tasting rooms. Consider that Minnesota doesn't have 200 breweries total and it puts that number into perspective. I'd have one week to explore the scene.
It's hard enough for me to decide what brewery to visit in Minnesota, how was I going to select the ones to visit in California? My trip research starts with Google. Search for "best breweries in <location>" and see what comes up. It's not bullet proof. You've got to ignore Yelp, Trip Advisor, and other travel aggregate sites. What I'm looking for are beer blogs, travel publications, craft beer editorials, or – in rare cases – a complete ranking of every brewery in the area. It's a lot of digging and in some cases it's a lot of fluff. My goal is to cross reference, peek at photos, and start to build my own list.
There was no shortage of resources for San Diego. They have seven of the top hundred breweries in the world! The last step was to browse Instagram. I look for the hashtags used in the area – which I end up using later – and start following local influencers. If I find anyone that looks particularly friendly I'll reach out to them for suggestions. San Diego has a couple of gigantic craft beer Instagram accounts that are impenetrable. For that reason, I reached out to some smaller accounts and got recommendations that didn't pop up elsewhere. After plotting the list on my own Google map, I was set.
---
We had gathered on the pier outside of the USS Midway, our eyes adjusting to the sunlight after touring its depths. It was our first day in San Diego. I was steering my daughter away from the pier's edge when I overheard someone in the group mention finding a brewery and going to dinner. "Are there any breweries in the area Ryan?" my sister-in-law asked. I wanted to weave craft beer into the trip in a natural way and this was my first opportunity. "Mikkeller has a taproom in Little Italy and there are a bunch of restaurants near there" I said.
Mikkeller San Diego was the first Mikkeller brewery in the United States. The infamous Denmark brand began life as a "gypsy" brewer. That means they never operated an official location and used collaboration with other breweries as their primary method of creation. They've since become global, synonymous with innovative ingredients, quirky style, and quality beers. It was at the top of my list.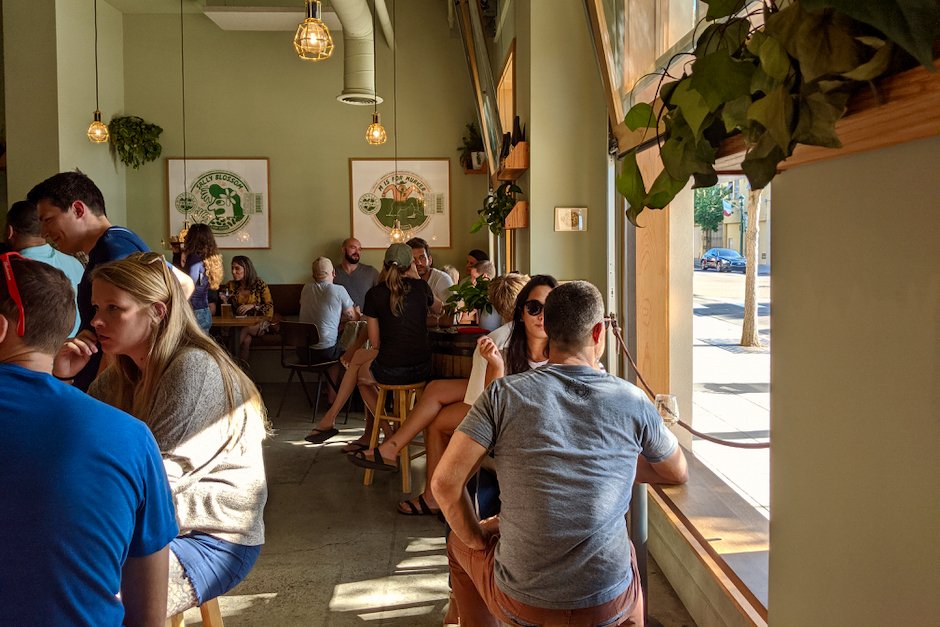 The location in Little Italy hit every note for me. Their taproom tuning fork rings true on every detail. Beautiful light, a sidewalk rail, their signature illustrative style, a tiny room with mint green walls, and 18 incredible beers on tap. We crowded around a barrel in the center of the room and passed glasses around for tasting. Battle Pretzel was a crowd pleaser, a Festbier brewed with pretzels, sea salt, and mustard seed. Simultaneously odd and incredible. All the other beers struck similar chords, each an exciting premise that delivered on its promise.
A challenge arose after I ordered my second beer. I have the stamina to sit at one taproom and sip on beers for several hours. Especially when the quality of beer is high and the taproom delightful. But people had seen a brewery across the street they wanted to visit before dinner. It wasn't a brewery on my list – not a bad thing – but with so many breweries in the city my chief desire was that we visit only those that would be a good use of our time. This was a risk the group wanted to take and I lept on board. We gathered our things and went across the street to Bolt Brewery.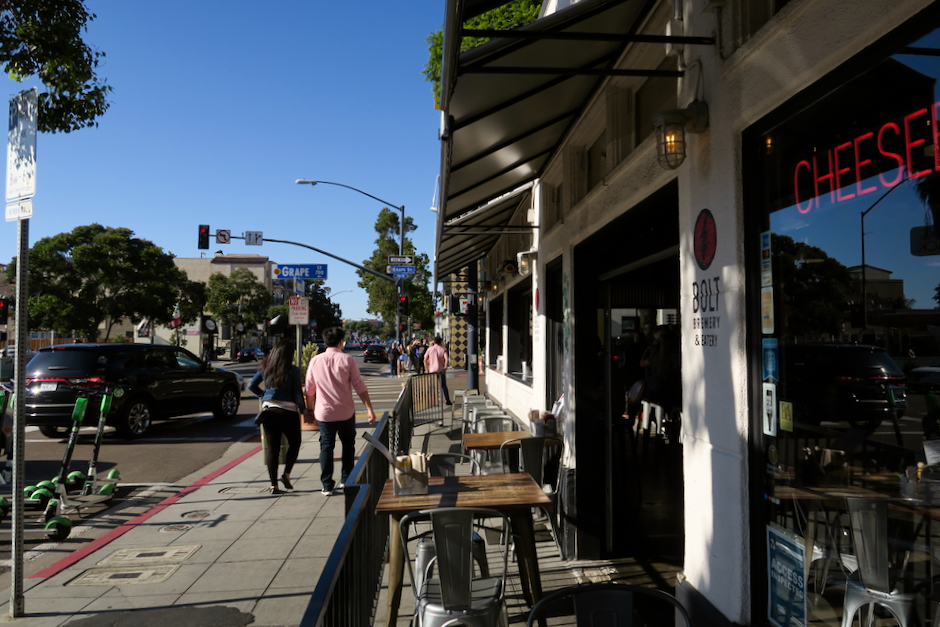 It's amazing what a different experience Mikkeller and Bolt deliver. The first has a cozy taproom serving nothing but beer and lets nothing get in the way. The second was a busy brewpub with table service and televisions. We cut our time short due to the pressures of dinner with a tired toddler. Their beers are approachable and the Hip-Czech Pils was classic representation of the style but Mikkeller was a hard act to follow. That night, as we drove back to our Airbnb, I wondered if we'd already visited the best brewery of the trip.
---
The new day brought sickness. While the family was enjoying wines at the Forgotten Barrel Winery, I was joining my daughter for a nap in the van. Trying to sleep off the unease. It's my luck getting sick a day into a trip to a craft beer hotspot. There was a lot of breweries left to visit, and I wanted to enjoy them. The next was a big one: Stone Brewing World Bistro & Gardens in Escondido.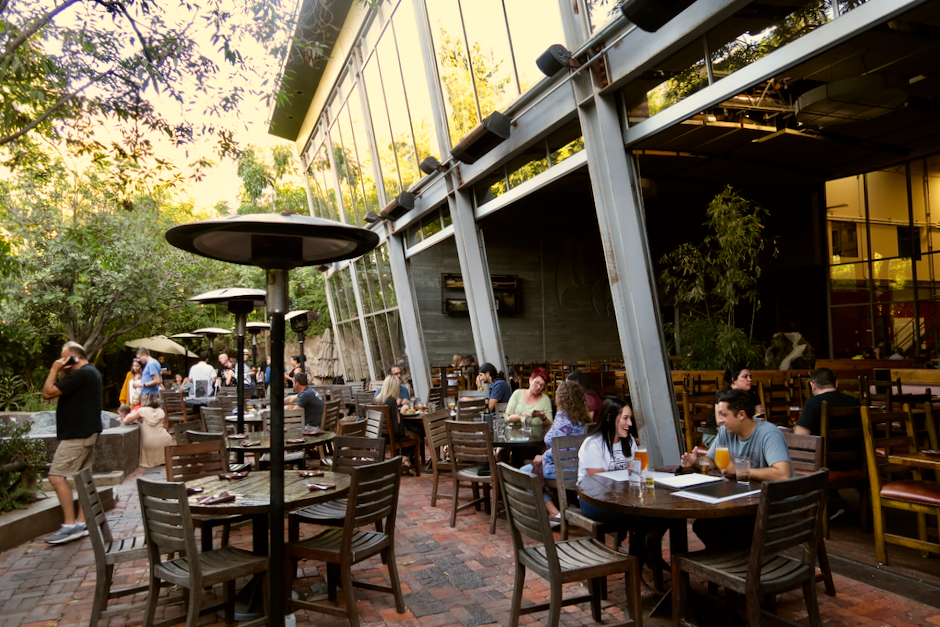 You can't discuss San Diego craft beer without mentioning Stone. Established in 1996, they are the ninth largest craft brewery in the United States and their Stone IPA is not only one of the best selling IPAs in the country it helped define West Coast IPAs as a style. This wasn't the only "mothership" we'd visit but it was the biggest.
There are craft beer taprooms and then there are destination breweries. Stone's Escondido location embraces the latter. A cavernous restaurant with towering glass windows, a tap list that leaves your head spinning, a patio unmatched in character, and gardens that beg to be strolled with craft beer in hand. It's no wonder they inspired Surly's Omar Ansari to build his own destination brewery. Oh yah, and their True Craft Burger may have been my favorite meal of the trip.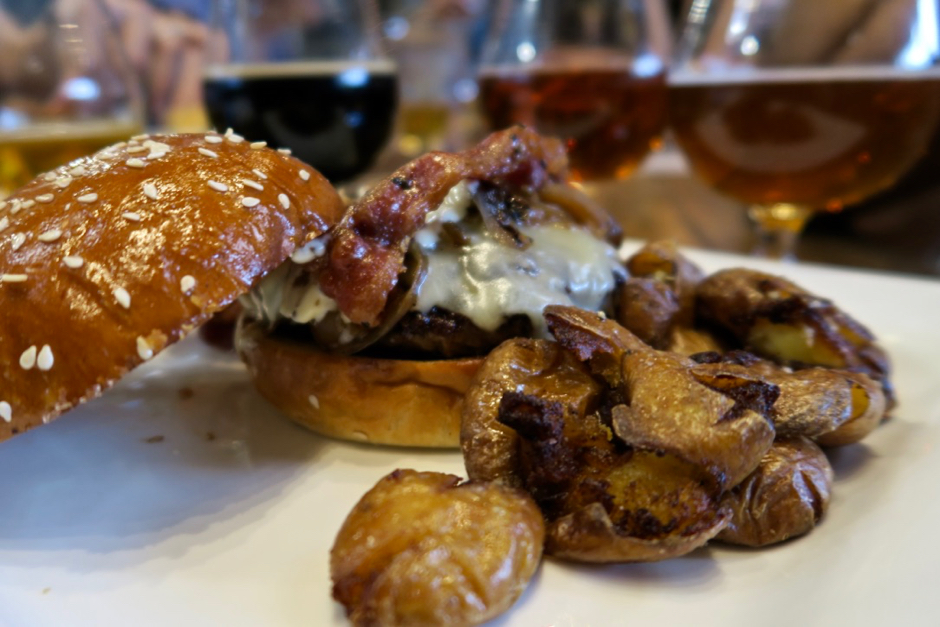 Success can be a badge of shame in the craft beer industry. I'm as guilty as anyone of looking past Samuel Adams, New Belgium, or Sierra Nevada. But it's not necessary that beer drops in quality once you reach a production threshold. Back home some of the best beers I've had are at Surly and Summit, yet I rarely visit due to their size. I had a similar feeling about Stone but – after tasting their beers – those thoughts are shameful. All four beers were excellent. My progression went from the Tropic of Thunder Lager, to Experimental Batch 086: Passion Fruit & Yuzu Mojito Brut IPA, Mättzen Märzen, and then Light Breaker Extra Dry Coffee Milk Stout. The lager was my favorite. Bright crystal gold with a solid malt backbone and a crisp citrus hop finish. Delightful.
The last thing I expected from the busy Stone and their solo bartender was world class service. This woman was exceptional. She never stopped moving, had memorized over 20 taps, and took orders while filling a beer in each hand using every inch of her wingspan. Not only that, but she did it with a smile and a quip. Some of us returned the next day to pick up a credit card that we left on the bar and not only did she remember them, but she gave them a free beer. A rare highlight.
---
I'm not a beach person. I like being warm, I enjoy swimming in the ocean, I don't mind tossing a ball around, but sitting in the sand for hours is not my thing. But give me some shade and a good book and you'll have to drag me away. La Jolla Shores Beach had no such shade. When folks began discussing grabbing a bite to eat and heading up the coast my ears swiveled.
"I kind of want wine." my wife said. "Maybe we can go to a brewery after?" someone else mentioned. My superpower is knowing how long things take. No matter where I'm going, if it's a place I've never been, if there will be traffic, it doesn't matter, I seem to have the ability to measure the time it will take close to the minute. It's a lame super power, but it's handy and it's all I've got. Running the calculus I knew the only way we could do both – and catch a sunset – was to head to Solana Beach. "There is the Carruth Cellars Urban Winery up the highway." I said. "And if we have time, Culture Brewing is across the street." We had time.
Culture was on my list, but not at the top. I heard great things about them, but it was more of an "if we are in the area" kind of thing. I'm glad we were in there area. It's a tiny room separated from the sidewalk by a rail. The golden hour was on full display behind the fermenters on the back wall. The full brewhouse is visible from their patio, but it was closed for repair during our visit. Their taproom is in the design district of Solana Beach and they embody their name and location by featuring a new artist each month on one their walls.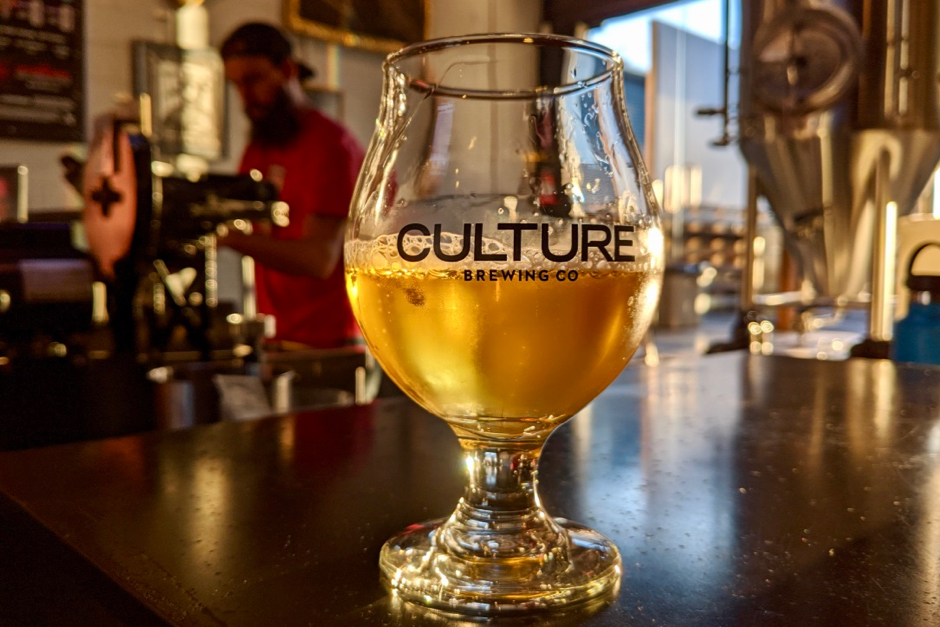 It was standing room only and we huddled around a barrel in the center of the room trading sips of beer. At $1.50 for a 3oz taster it was one of the best deals of the trip and a good way to try a range of their beers. They had a lot of regular approachable beers most of their names matching their styles. Perfect beers for after the beach and a fresh twist from all the wild beers I'd had up to this point. My father in-law said their Hazy IPA was "the best one I've had so far." This comment – from someone who would only order a Kölsch months prior – is high praise.
As we rushed off to get my daughter to bed I reflected on the trip. We had some amazing beers and some world class breweries. It's hard to choose favorites; I liked each one for something different. My expectations were peaking for the breweries that remained. It was a question of which we'd visit.
---
Mission Beach is an iconic San Diego landmark. We skipped the sand, opting to stroll on the oceanfront walk and take our chances on Belmont Park's Giant Dipper rollercoaster. Our cadre was playing phone tag and trying to plan our next steps. "Do you want to go to Modern Times?" my sister in-law asked. "Yes" I responded, "Yes I do."
Since they began brewing beer in 2013, Modern Times has become the darling of the San Diego scene. They are known for their inventive beers and eccentric nature. It's why they brew out of a place called the Fortress of Raditude and their influence continues to grow throughout the southwest and up the west coast. We had arrived at their original Point Loma location, the Lomaland Fermentorium, a nondescript beige warehouse.
It took a moment for my eyes to adjust but once they did they were beset by a wave of color and whimsy. A mural made from vibrant post-its was the first thing to besiege my senses. My eyes then bounced between a wall of comic pages, another from books, and then landed on a marquee'd BEER sign above their central bar. If my brain thought it could take a break, it now had to flip through their tap list of 30 beers.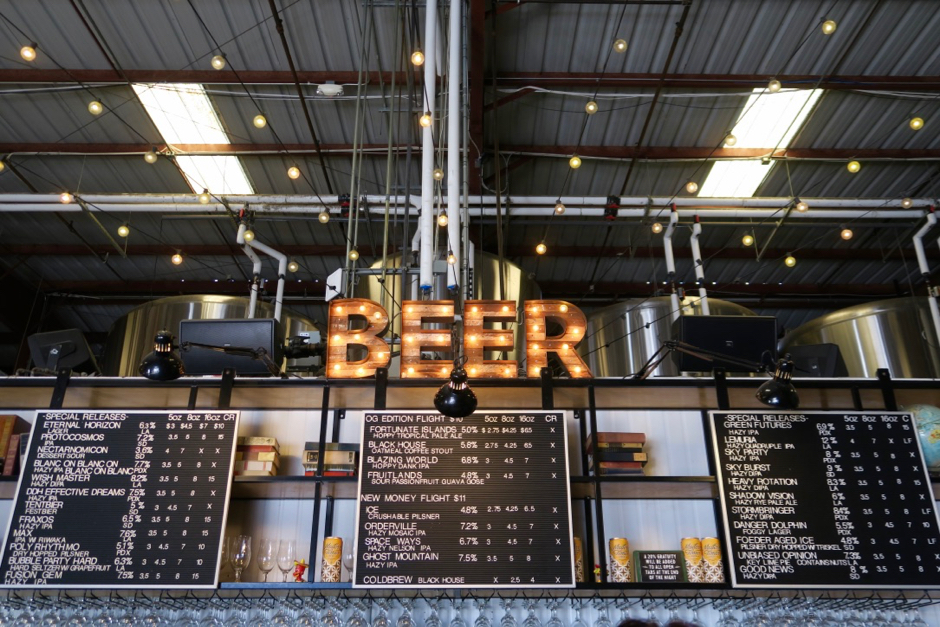 I stuck to tasters, the first four arriving as an OG Edition flight inside a cigar box. By the end of my visit I had tried nine beers. It was a challenge to taste the beers in the midst of a cold putting a straitjacket on my olfactory and tastebuds, but their playful beers managed to shine through. Fruitlands with Passion Fruit and Guava was a fruited sour Gose with the exact amount of fruit complemented by a mild sour finish. Wish Master smelled like gummy candy with a smooth, bright, and fruity flavor. Downright amazing. Nectarnomicon: Raspberry Blast was a fruit smoothie re-imagined as a beer, equal parts smooth and drupaceous. And the Unbiased Opinion: Key Lime Edition was out of this world good. The first words in my tasting notes were "unreal." Creamy and smooth with notes of pie crust, nuts, whipped cream, and key lime. My favorite beer of the trip.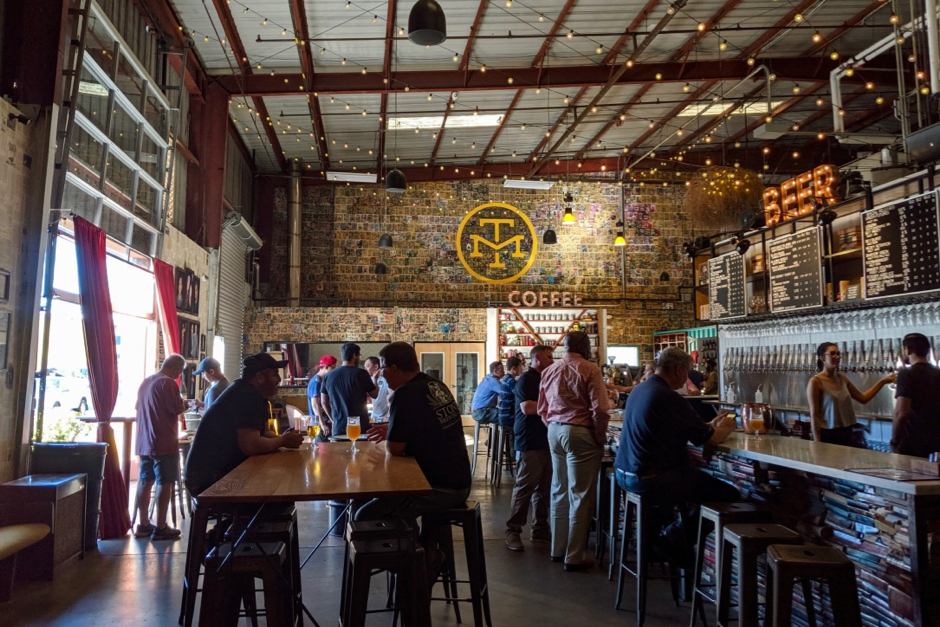 We spent the most time at Modern Times of any San Diego brewery. I'm glad for it, but I'd still be there if it was up to me. Not only did their taproom embody craft beer, their passion shone through in every beer that I tasted. While we walked away I took one last look over my shoulder at the unassuming warehouse. I hoped the sun wasn't setting on my San Diego craft beer journey.
---
One of the truths in my life is that taking staged photos with the family is distressing. In a bottle it shouldn't be that bad. Take a couple of minutes, put on your best smile, and wait for the cameras to stop. When you hire a photographer to take family photos at a winery and pair it with a fussy baby, it ups the anxiety. After photos we said goodbye to my brother in-law and his girlfriend and one of our cars left to drop them at the airport. The other headed for the perfect antidote to a hectic morning, Eppig Brewing Waterfront Biergarten.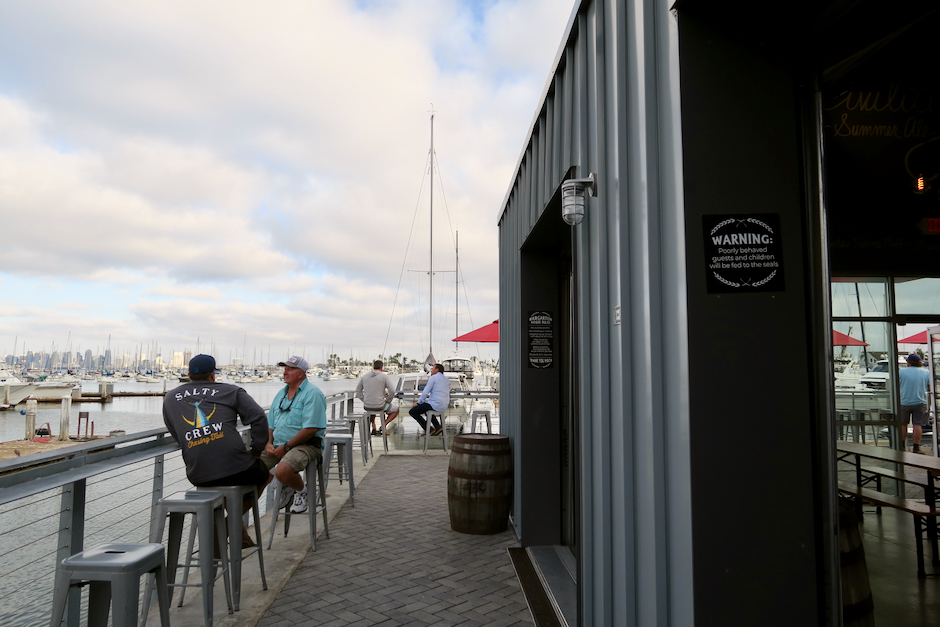 Eppig Brewing earned a visit because they were close to the airport. But also because their taproom was one of the most unique I saw while researching breweries. They're located in the America's Cup Harbor off of North San Diego Bay. That means you'll view a flotilla of yachts with a backdrop of the San Diego skyline. Parking was difficult. We found street parking next to the public lots and then walked along the promenade.
When I ask my wife what her favorite San Diego brewery was, she answers Eppig. It's easy to see why. The taproom is a contemporary lean-to, gray and red. Seating inside is limited, only one table with a couple of spots at a small bar. This seems intentional since the bevy of garage doors pushes patrons out onto their wraparound paver patio. It's clear they want you outside to enjoy the fantastic views. Simple hand-lettered black tiles denote each of their beers which lean towards German styles. I didn't expect to see a Zwickelbier in San Diego, but I found one at Eppig.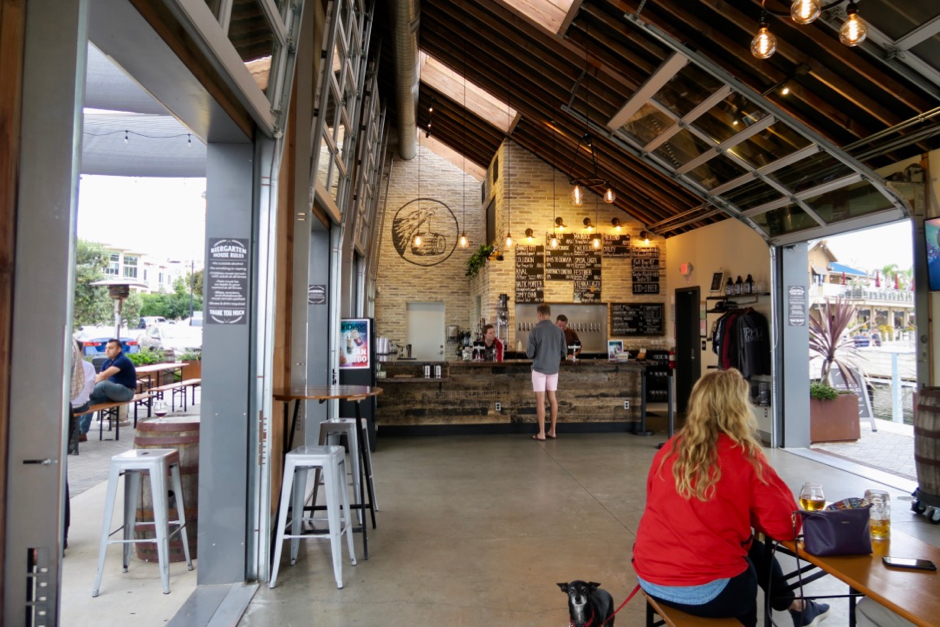 German inspired beers matter little – and can be detrimental – if they are not brewed well. Eppig's are excellent. Following Modern Times is a tall order for any brewery but approachable balanced beers were the perfect corollary to those flavor blasts. It's hard to choose a favorite. You'd be good with both the Maibock or the Festbier. For those that aren't a fan of lagers, they had plenty of ales on tap as well. No NEIPAs though, fine by me. As the conversation tilted towards dinner I began to think about the following day. We'd secured an evening without the toddler. It would be our last chance for San Diego craft beer.
---
Hippos are graceful swimmers. That was the biggest takeaway from our day at the San Diego Zoo. I had been on the fence about going, I've been to zoos before how good could it be? Pretty good it turns out. We saw animals in all exhibits and most were very active. The hippos being the biggest surprise. Did you know they have a unique digestive system where they practice foregut fermentation? Neither did I, but it means that everything they eat gets fermented early in their digestive process. We drove into North Park to celebrate with a favorite fermented beverage of our own.
North Park is the hipster haven of San Diego. It features trendy restaurants, countless murals, coffee, ice cream flights, and – of course – craft breweries. There are at least twenty in the area and most large breweries have a presence in the neighborhood. That includes one of the places most often mentioned when discussing our trip, Belching Beaver Brewery.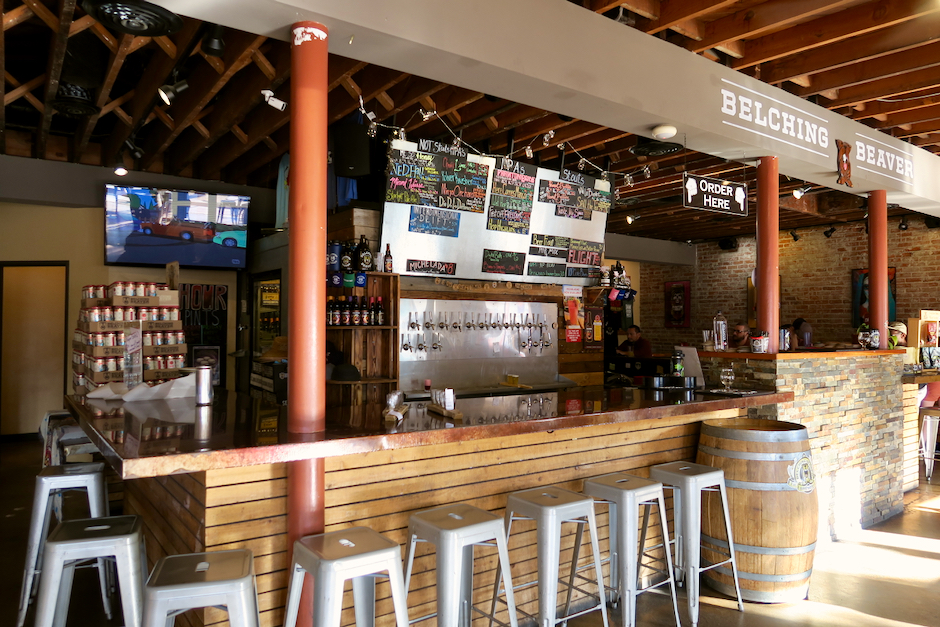 Forget peanut butter and jelly: peanut butter and beer, name a more iconic duo. But seriously, when done well, this is my favorite flavor combination. Dangerous Man's Peanut Butter Porter was my introduction to the pairing and Belching Beaver's Peanut Butter Milk Stout is the beer that solidified them as a destination brewery. While it's not brewed at their North Park tasting room, it was as fresh as I'd come to having it from the source. It was lovely. Velvety smooth with equal parts peanut butter and chocolate and the right amount of hops to curb the sweetness.
The taproom was smaller than I'd anticipated. A u-shaped bar in the center of a the room flanked by high tops made of real tree slabs. If you look close you'll see where they were sliced out of the same tree. The rest of the seating is around their four garage doors. A u-shaped rail pairs with each door and results in seating facing the sidewalk as well as the option of sitting across from others.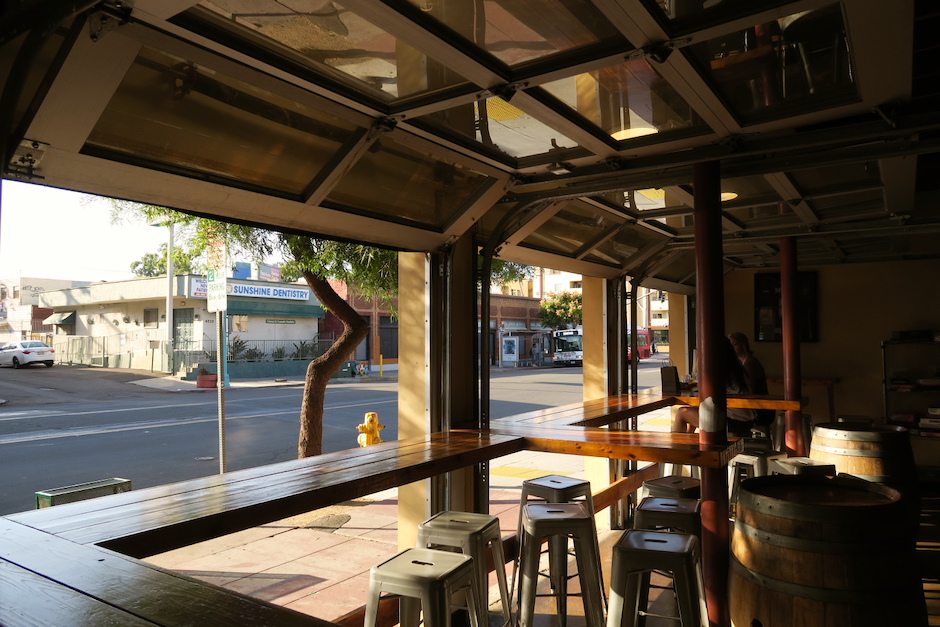 Our daughter napped in my wife's arms as the sunset teased the horizon. We were planning to walk to the nearby Ono Grinds for dinner, send our daughter home with my mother and father in-law, and have a short night on the town with my sister in-law and her husband. Spoiled for choice we decided on the nearby Miramar neighborhood.
There is a reason they call it Beeramar. It may be the densest cluster of breweries in the nation. We wanted something walkable since we planned to take an Uber back to our Airbnb. Miramar was our match made in heaven. One thing we hadn't expected was the opening hours of the breweries to be so limited on a weeknight. For the best, I don't know if I could last too long. Anxiety was high for my wife and I. It was the first time that someone other than us would drive our daughter. We trust our in-laws but it magnified our nerves. The antidote awaited, a beer.
The Pure Project taproom may be in a commercial business park, but once you walk through the threshold you're in another world. If I was an explorer searching for El Dorado, the lost city of gold, and stumbled upon a jungle craft brewery it may look like Pure Project. Moss fills one of their walls and plants drape the tap list above the bar. There is liberal use of wood throughout the room and the soft lighting sets a pleasant mood. We each ordered a single beer, and If I was looking for gold then I found it in Black Magic. A sour IPA with loads of blackberry, a splash of hibiscus, and a silky sweet mouthfeel.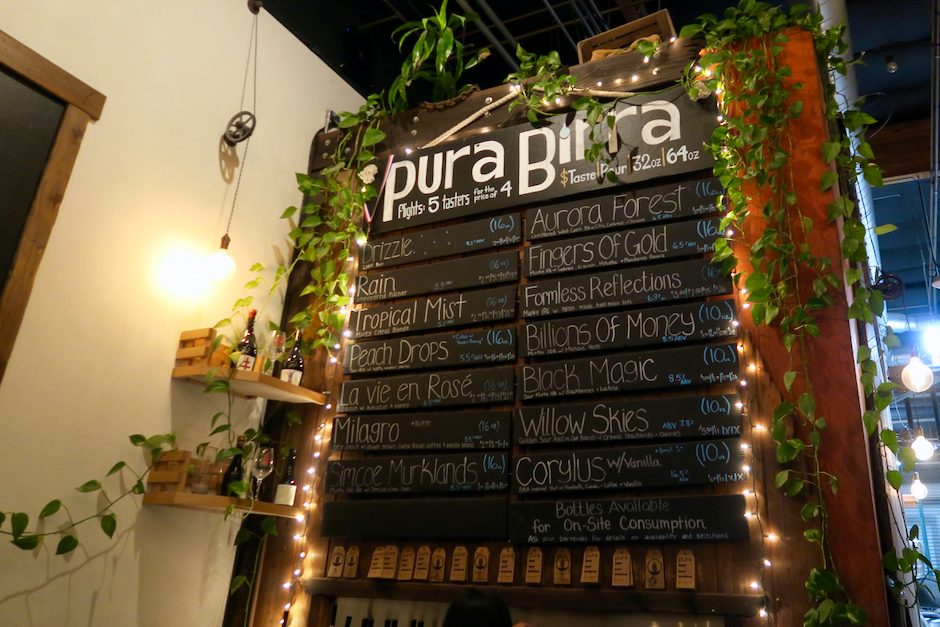 Our quest to enjoy a childless night took the streets where we attempted to navigate to nearby AleSmith Brewing Company. Don't trust Google's walking directions in Miramar. There were several times it led us to chain link fences. An evening of beer and the promise of more can make you consider scaling a fence but our wives convinced us otherwise. We flipped on driving directions and took another path.
AleSmith was one of the few breweries that we all wanted to visit. It was fitting that it would be the last stop of our trip. It's a true destination brewery with a taproom that rivals some of the biggest I've visited. A large bar zig-zagged in front a glass wall that gave a glimpse into their brewhouse. Three large copper stacks funnel beer into taps behind the bar. The space is enormous. The bottom floor contains wide open seating and spills out onto a front patio. They've even got a Tony Gwynn Museum in the corner. There is upstairs seating on a mezzanine and a you can find a speakeasy if you're astute. Not too perceptive; there is an arrow pointing at it.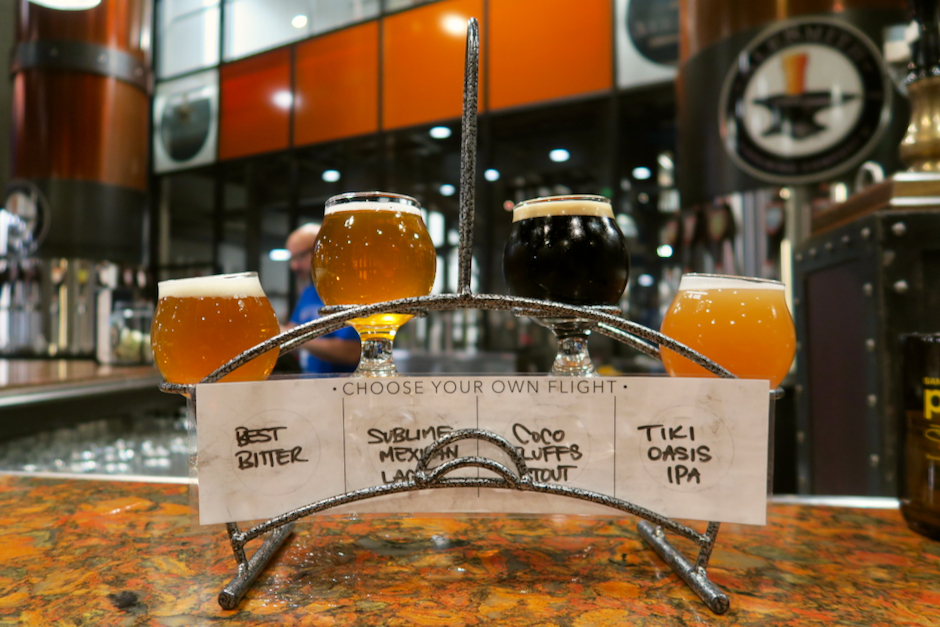 I ordered a flight of four beers while my wife ordered a pint. "Their Nut Brown Ale is good" my wife said. "I expected you to like it, because you have cans of it in our fridge at home" I replied. "Oh yeah!" she said. I can confirm it is even better from the tap. My four were the Sublime Mexican Lager, Best Bitter, Cocoa Fluffs Stout, and Tiki Oasis IPA. While I enjoyed each of them, and the IPA was my favorite of the group, I never meshed with AleSmith. The building was no doubt impressive, but there wasn't much character to it. A giant taproom with very few patrons doesn't create the best experience and I don't fault them for it.
---
Out of the hundreds of craft beer options in the San Diego area, we visited nine. I can't remember a bad beer in the bunch and some of the breweries were among the best I've visited. Stone Brewing exceeded expectations and set a high watermark for any destination brewery to follow. Culture blew me away with their fantastic beer and standing room only taproom. Mikkeller was the total package; a delicious taproom, incredible beer, a must for San Diego trip to come. Eppig delivered stalwart German styles in the wake of a storm milkshakes and pastry stouts. And the brews at Modern Times still linger in the halls of my memory.
If you love craft beer, San Diego is essential.