It was the first day of March, our second day in San Francisco. The day prior we'd walked to Fisherman's Wharf and the surrounding area. We started Sunday with a trip to the Painted Ladies of Full House fame and a pit stop for coffee and a donut (or two). From there we set course to the Golden Gate Park through the Haight-Ashbury neighborhood. It was there that I scouted the brewpub we'd return to for lunch: Magnolia Brewing Co.

The Haight-Ashbury neighborhood is famous for being a hippy haven. It was the epicenter of the counterculture movement in the 1960s. The first ever head shop opened there. That should tell you all you need to know. Fifty years later, it remains a colorful neighborhood full of psychedelic murals, record stores, and hippies telling us to photograph a clock – "It always reads 4:20." How does craft beer fit?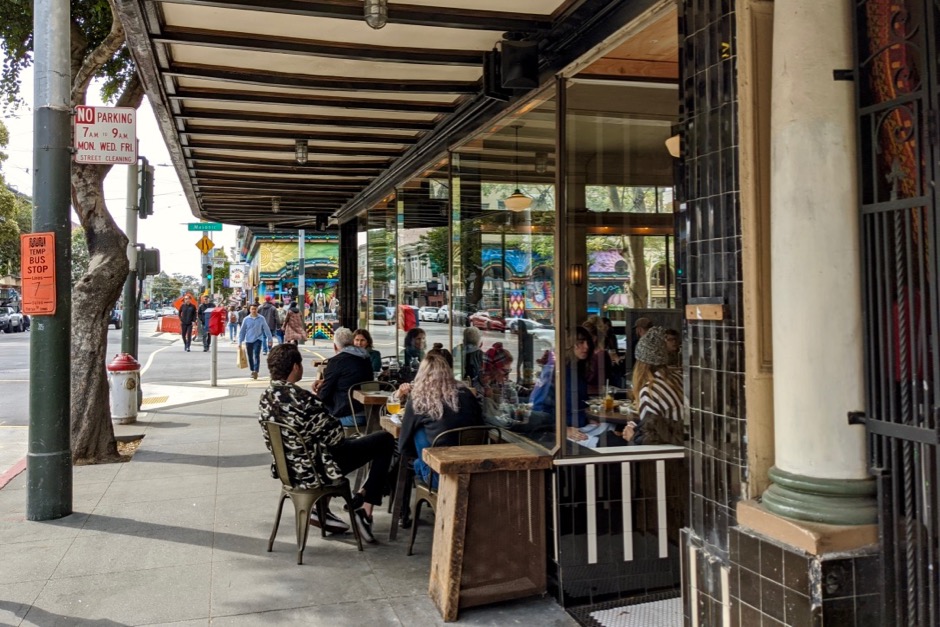 In 1997, founder Dave McClean opened the brewpub. His mission was to combine traditional English ales and pub life with the creativity of the neighborhood. If you're results oriented, over 20 years later they are still going strong and have opened several locations within the city. I'd say they are fitting in well.
The building housing Magnolia looks like a snapshot from the past. Their website states:
Built in 1903, our building has seen a lot over the years, from its decades as Schumates Pharmacy to its role in the birth of the Haight Ashbury hippie movement in 1964 as the Drugstore Cafe, one of the original hippie hangouts in the neighborhood. In the late 60s, it became the famous Magnolia Thunderpussy's, named for its proprietress, a larger than life San Francisco legend still talked about today.

Magnolia Brewing Co.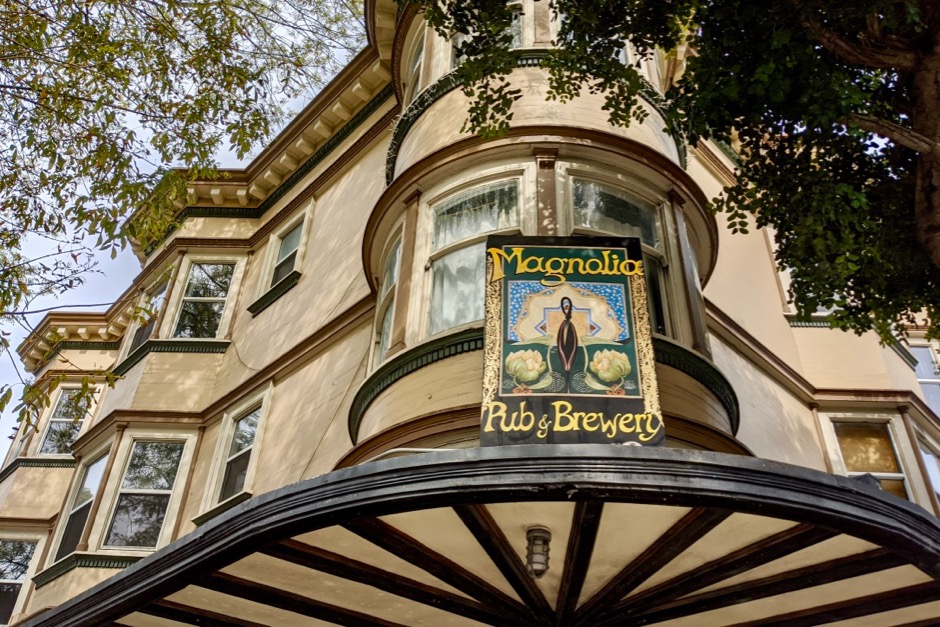 I couldn't believe how busy it was. We got the last open table for two near the large front window. It's interesting when what I picture in my mind differs from reality – even after I look up photos. Magnolia is a small brewpub packed with tables. There is nothing polished. The ceiling is stained, the dark wood scuffed, yet there is a careful consistency. I've only been to a handful of pubs in England; they nailed the vibe. And you wouldn't know it but there is a 7-barrel brewhouse in the basement. They had to dig out the basement to cram it in.
We ordered our meals from their brunch menu along with a flight of beer. I'm surprised we fit everything on the table. It took awhile for our food to arrive. In the meantime we got the last batch of sugary beignets. Have you ever had any? They're as good as they are hard to pronounce. The Magnolia Burger was solid. Not flashy but full of flavor. What about the beer
Goodbye Moonmen is a Double Dortmunder Lager with massive maltiness. Cloud Cover is their hazy DIPA with peach, apricot, orange, and citrus notes. Incredibly hoppy. I had to try Maris Slaughter their Black Metal Beer with 6.66% ABV. A lot of interesting things going on with the malt. Roasted chocolate, a touch of vanilla, and a bitter hop finish. Would you order a beer brewed with real oysters? I couldn't pass up the Oysterhead Stout. It had an echo of brine with a full bodied roast to round things out. It wasn't incredible but worth trying.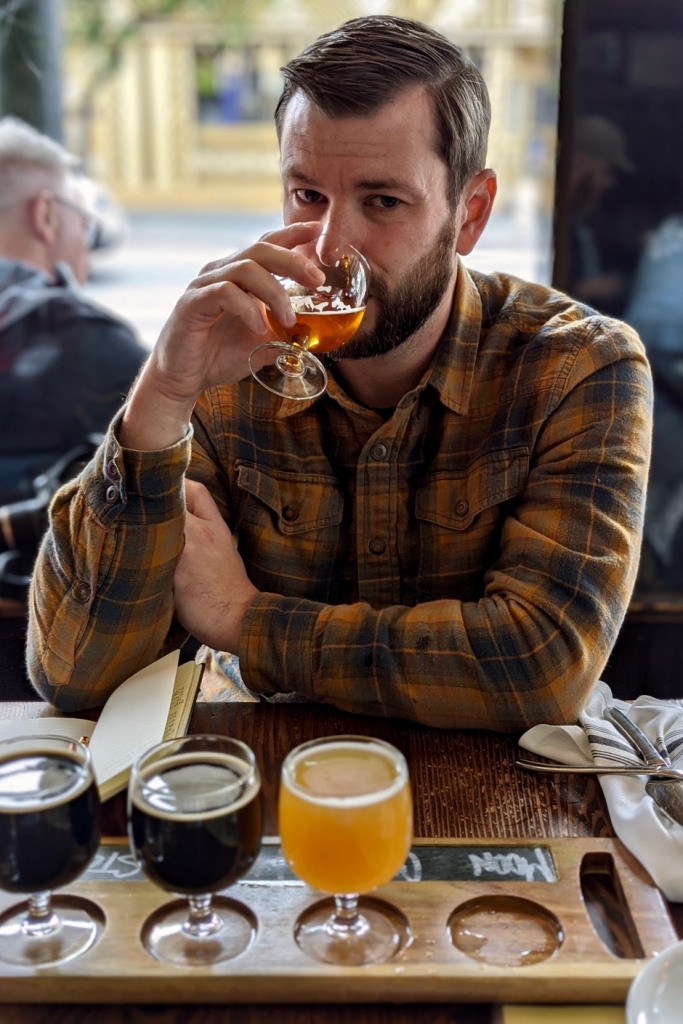 We didn't linger. I feel rushed at brewpubs, especially the ones that have leaned further towards the pub than the brew. The food was delicious; the beer solid. My back was to the window but my wife has a few amusing sights. First there were the Boombikes for Bernie riding down the Haight. We saw them organizing in the park earlier. Quite unique, imagine a mobile rock band powered by bicyclists. Later I noticed my wife's eyes pop and I turned my head to see a group of twenty naked men strolling down the street. I wasn't able to capture their cause but my first thought was how cold it would be. It wasn't frigid in San Francisco but it wasn't balmy either. Good on them. Magnolia Brewing had unique beers on tap but the views were like nothing else.
Newsletter
Sign up if you want to be notified of my latest blog posts as well as additional curated craft beer content.