The first brewery we took our daughter Ellen to was Copper Trail Brewing. She was a week old. Any parents reading know that you can't drive too long until they get hungry. One of our stops lined up with Alexandria and the brewery wasn't far off the highway. The old location was in strip mall, nothing remarkable but warm and inviting. When I saw pictures of their new taproom downtown we wanted to return. This time we had two newborns: our son Arlo and his cousin Henry.

"Should we move inside?" my wife Samantha asked her sister Jill. A stiff breeze was causing issues, threatening to topple our beers and frustrating the little ones. "Yah, I think we saw an open table in the sun on our way out" Jill replied. It was one of those late Minnesota summer days – deliciously warm in the sun with a cool breeze that teases the looming winter. They moved inside, the two newborns clutching their mothers and wrapped tightly. My brother-in-law David and I fetched the gear: diaper bags, car seats, and an array of bags with contents unknown.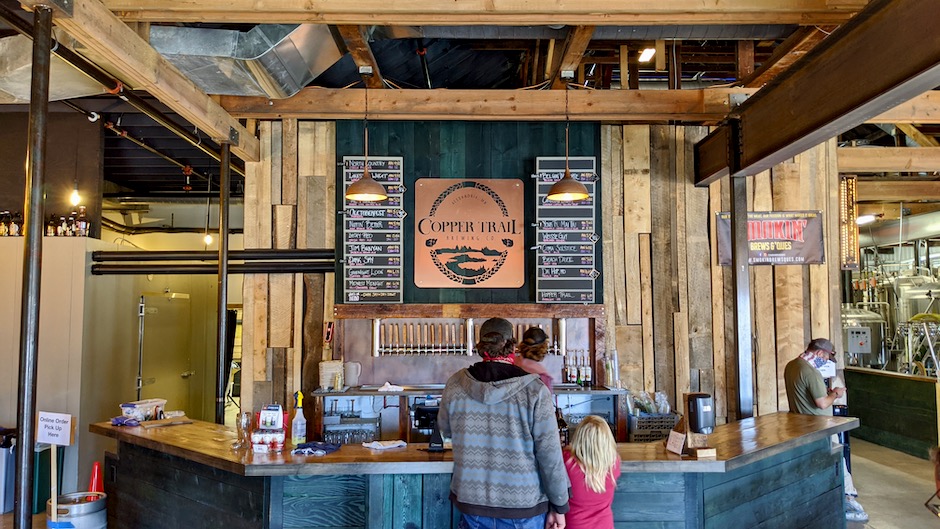 Copper Trail's new taproom makes their previous place a distant memory. The same decor and vibe remains – modern and rustic – but more cohesive. A square of copper emblazoned with their logo sits on rustic wood slats behind the bar. Two narrow chalkboards flank it and contain the tap list. They've got capacity for 24 drafts, an impressive amount. Gone are the days of small breweries having a short list of beers. I find that locations are taking a scattershot approach to pull in as many local drinkers as possible. No complaints here!
We sat at the end of a long community table. The pandemic was still our reality, seating distanced. Their future capacity dwarfs the previous location. The chairs were sturdy, thick wood, and metal. They blended well with the tables and provided a deep luxurious bend. I like a place that is thoughtful with their seating. It gets old sitting in the same old metal brewery chairs and stools (you know the ones).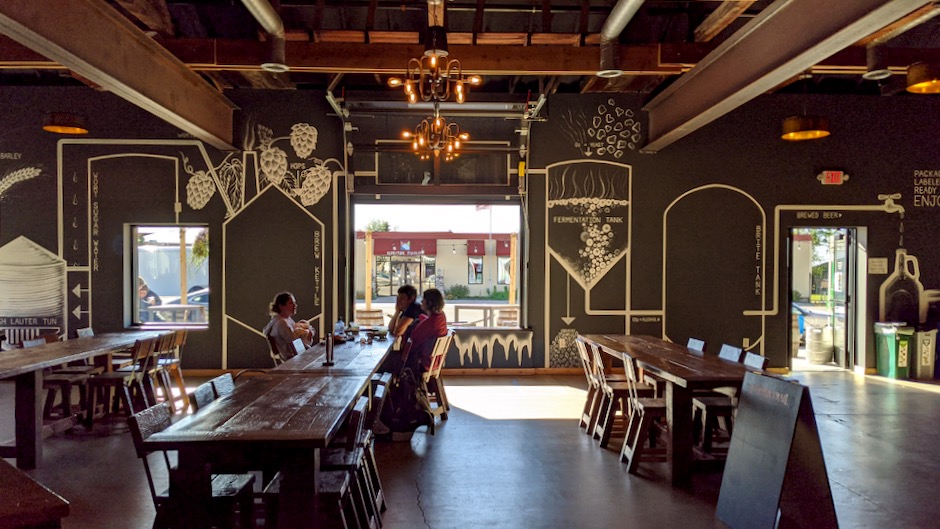 The sun blanketed us and drew my eye through the window and across the street to the Runestone Museum. The same runestone that gives 22 Northmen its name. It's these sort of places that give small tourist towns their charm. It seems like no other place on earth could support a business built around a slab of greywacke, but the legend of that rock is woven into the fabric of Minnesota's "up north."
The kids spent most of their time napping which gave me plenty of time to taste an array of brews. The list:
Caribbean Dream – Coconut Coffee Golden Stout
Oletoberfest – Märzen
North Harvest – Czech Pilsener
Nuttin Better – Brown Ale
Doctor Hop, MD – Triple IPA
Your Ty Mai Tai – Fruited Sour
The Märzen was my first of the season. I'm happy to report it was traditional – caramel malt and clean bitterness. My favorite though was the Caribbean Dream. Heavy coconut aroma and flavor with a subtle background of coffee. If it was what they were searching for, they nailed it: one star.
We spent hours trading newborn stories: our second, their first. Babies this small are great brewery companions. They don't move around, sleep most of the time, and their tears are easy to remedy. With how chaotic children can be it's required to grasp moments of your past life. The white noise of a busy taproom offers the perfect backdrop. If you're looking for a getaway (newborn or not), there are far worse places than Copper Trail Brewing.
Newsletter
Sign up if you want to be notified of my latest blog posts as well as additional curated craft beer content.