One of my criteria for a great brewery is the taproom. Of course, the beer matters. Yet the taproom can make or break the experience. I begin by trawling any "best of" lists that I can find, collecting the breweries that appear multiple times and any others that jump out at me. Then I dig deeper. I dive into the pessimism of reddit, ask for recommendations from Instagram influencers, browse individual websites, and search through local tourism info. Once I have list of breweries – usually far too long for my needs – I search for them on Google Maps. Location is a factor, but the primary reason is to view photos. Google organizes these, and Vibe is my jam. While searching for Iowa breweries, there was one that cropped up that intrigued me but had few photos of the interior. My visit to Alluvial Brewing Company would now have purpose.
Alluvial is situated northwest of Ames, Iowa. A pastoral setting, bordering Prairie Moon Winery, and Lacewing Acres (CSA). The building attracted me. It's a monitor barn thats original use was to house vegetables. With room left over it's only natural to fill the extra space with a craft brewery. I joke, but that's what they decided. It includes a patio overlooking the prairie and wetlands and was filled with vibrant pastel furniture beckoning us to join them. Once again, it was cold and rainy. We've had great luck with weather on most of our travels. I'll mortgage those days for bad weather while driving through Nebraska and Iowa.
We entered the front room. There was a small bar to our left, with paisley patterned stools. A few high tops were to our right, and one central table at the back wall. Gazing up I saw art on nearly every surface except the windows. I caught a glimpse of the back room, noting it for later.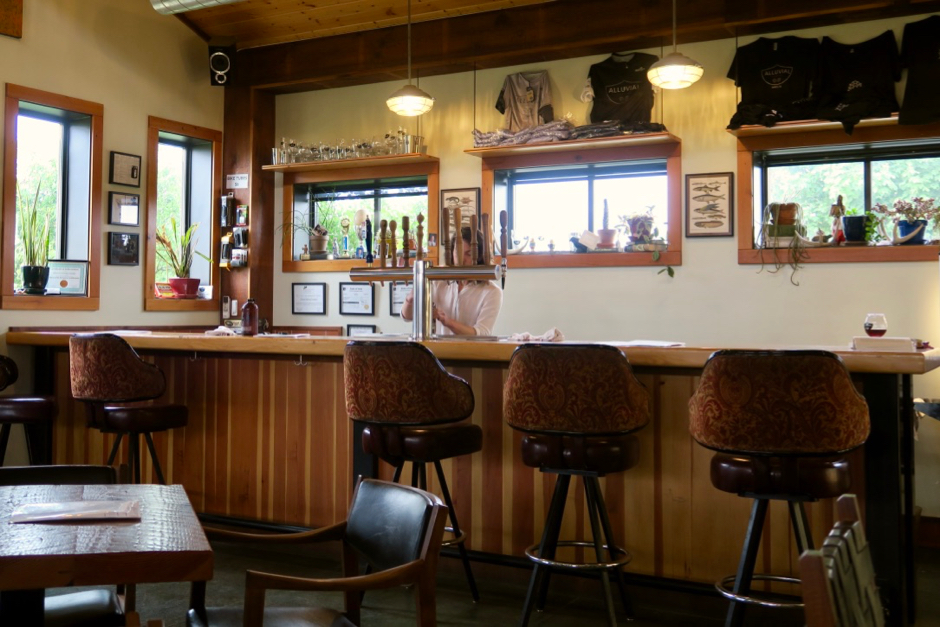 Above the cooler in the corner near the bar was their tap list. White letters spelled out the beer's name and price against the black walls of the cooler. I hadn't seen this approach before, almost like Magnetic Poetry for beer. No flights, just individual tasters. The beers that caught my eye:
Townhead Pilsner
Spring Chicken Spring Ale
Runaway Coffee Blonde
Barraclough Pastry Sour
Nordic Orange Lazarus IPA
My favorite was the Barraclough. I'm not sure I've had a pastry sour before, at least not a beer described as one. It was finished with lactose, slivered almonds, and apricot jam. The almonds come through in the nose and the apricot is prominent throughout. I'm from a Czech community that has a tradition of filled pastries called kolacky. One of the more common fillings is apricot. My mind associated the beer with those treats. A good association.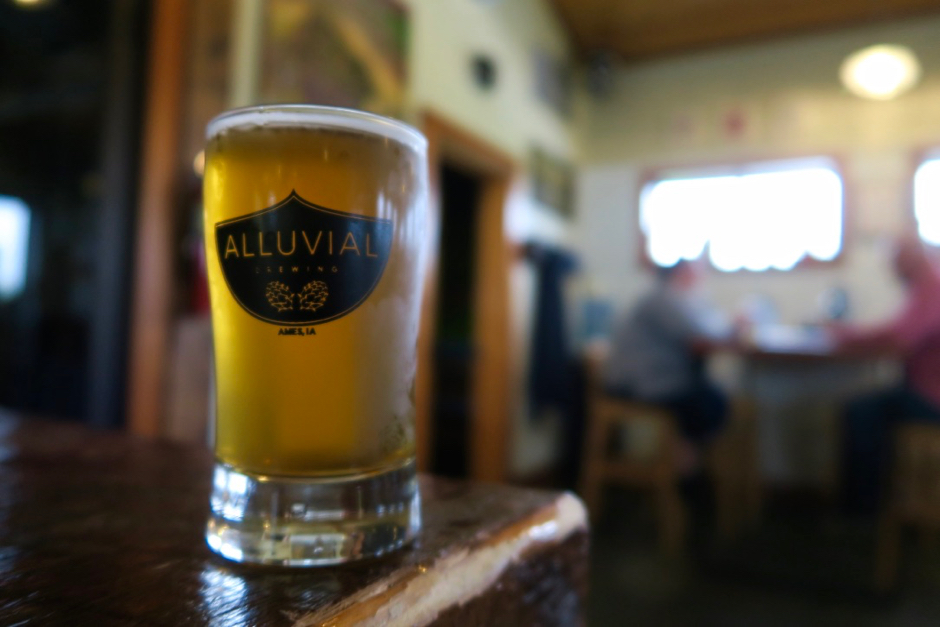 While examining Alluvial's paper tap list I noticed a list of boardgames they had available. I'm a boardgame nut. I focus on strategy games and my collection is large enough to include several games that I've never played. Many breweries have a stack of boardgames but they don't normally go beyond Monopoly, Scrabble, Life, and Pictionary. I've often dreamed of opening a brewery and filling it with quality modern boardgames. That hobby – like craft beer – is also going through a golden age. Alluvial is living my dream. You can view the full list on their website, but some notables include:
7 Wonders
Betrayal at House on the Hill
Carcassonne
Citadels
Dixit
Dominion
Pandemic
Settlers of Catan
Ticket to Ride
Tsuro of the Seas
They have the classics as well, but the collection is curated. I don't often have the time or company to dive into these games at a brewery. But, if Alluvial was within range, I would get a group together and make the time. It helps that the mood was relaxed. Music was at a reasonable volume and everyone kept to quiet conversation. The bartender switched between reading a book and zapping bugs with an electrified racket. The tables are large enough to hold an in depth boardgame, and I'm guessing they'd welcome you if you brought your own. I thought about going out to the car and grabbing a trivia game we keep there, but I realized we were driving a rental. It was the last leg of our trip and the road was calling. I'll put it on my Iowa bucket list.
Newsletter
Sign up if you want to be notified of my latest blog posts as well as additional curated craft beer content.